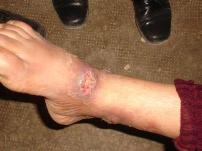 Leishmaniasis is a major public health problem in the Eastern Mediterranean Region where cutaneous and visceral leishmaniasis are both endemicLeprosy, leishmaniasis, onchocerciasis and lymphatic filariasis are known, but neglected, diseases in Yemen. They are neglected due to their low mortality rate and lack of resources. These factors lead to problems in reaching large numbers of people and the consequences of long-term infection vary, but include disfiguring scars and ulcers, severe pain, limb deformities and damage to internal organs.
There is also a lack of information about the diseases, vectors, parasites and methods of transmission which also increases morbidity.
» Full story
2 October 2012 – This year, for the first time, the WHO country office in Yemen participated in the 28th International Book Fair, which was held from 25 September to 5 October 2012. WHO Yemen's participation was in coordination with the UN Information Centre and the UN Country Team in Yemen. WHO's publications included books, posters and pamphlets, and covered a wide spectrum of priority health issues. The event provided a good opportunity to raise the public's awareness and sensitize them to the role of WHO in Yemen and the United Nations in general.
» Full story
New health education materials for neglected skin diseases in Yemen

Global visibility for WHO publications at the 28th International Book Fair