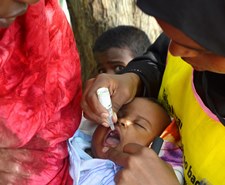 22 July 2014 - Four new cases of polio have been confirmed this year, in the remote Jariban district in Mudug region. This brings to 198 the total number of cases in Somalia since the outbreak of polio was confirmed in May 2013. The Ministry of Health with the support of WHO, UNICEF and partners carried out case investigation as well as outbreak response activities. The current round of vaccinations will run until 25 July and will target close to half a million children under the age of 10 years in the outbreak area and eight surrounding districts.
Since January 2014, a total of 9 rounds of vaccination campaigns have been conducted in Somalia targeting more than 1.5 children under the age of five. More campaigns will be conducted until the end of 2014.
Read more on the press release
» Full story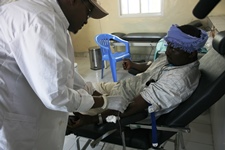 14 June 2014 – Fatuma had been in labour for several hours, when it became clear that her life was in danger. The 20-year-old woman was urgently taken to the hospital, where she underwent a caesarian section. During the operation, she suffered heavy loss of blood and her condition became extremely serious. "We gave her three pints of blood," said a health worker at Garowe General Hospital. "Without transfusion, she would have lost her life."
In Somalia, almost 4000 women die every year from pregnancy or childbirth-related complications. Severe bleeding during delivery and after childbirth is one of the most common causes of maternal death and long-term disability. Timely access to safe blood transfusion is one of the key interventions in cases of complications during pregnancy or delivery.
» Full story
Polio transmission ongoing in Somalia

Mothers in Somalia need more blood donations