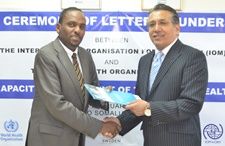 On 25 February 2014, the International Organization for Migration (IOM) and the World Health Organization (WHO) signed a letter of understanding to develop sustainable capacity of the Somali health authorities.
The partnership agreement marks the start of a 3-year project to build the institutional capacity of the health authorities through placement of technical expertise from the Somali diaspora within the Ministry of Health. The project is based on the Migration for Development in Africa (MIDA), an approach used by IOM in Somalia for the last 4 years, which provides sustainable solutions to governments by using the country's diaspora as the main technical and capacity resource.
The letter of understanding was signed by the IOM Chief of Mission Mr Ali Abdi and the WHO Representative Dr Ghulam Popal, together with the UN Resident Coordinator for Somalia Philippe Lazzarini at the WHO Somalia office in Nairobi.
» Full story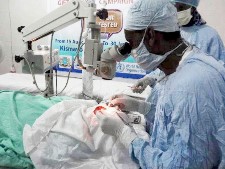 More than 5100 people from the Juba regions were screened for detection of eye diseases during the Gift of Sight campaign conducted in the port city of Kismayo between August 2013 and January 2014. The screening phase of the campaign was followed by surgical treatment to restore vision for more than 1500 patients. Another 1000 people were provided with glasses to correct refractive errors.
Asli could not see properly for over five years. During the campaign in Kismayo, she underwent a small incision cataract surgery and implantation of intra-ocular lenses. "You have aged so fast," she said to her son after her eye-pad was removed. "Your hair is all grey. What happened to you in these five years?"
» Full story
WHO and IOM join hands to build sustainable capacity of health authorities in Somalia

Giving back sight to the visually impaired in southern Somalia