Health partners in Somalia concerned about scaling down of life-saving health services due to funding shortages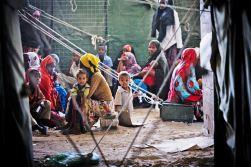 23 July 2015 -- Health partners in Somalia have expressed concern that they will face difficulties in continuing to provide life-saving health services at the scale required as a result of declining humanitarian funding for 2015 and the forecast for 2016. Despite continued early warnings and appeals for timely and adequate funding, health is currently funded at 8.5%, the lowest since 2008.
Over the past 3 months, at least 10 hospitals in Somalia have either been closed or have majorly curtailed their services across the country, and at least 3 other hospitals are at risk of closure in the near future. Basic health posts and clinics are currently struggling to meet primary health needs, and many aid agencies have withdrawn health workers from high-need areas.