A targeted outbreak response: reaching out to Somalia's high-risk populations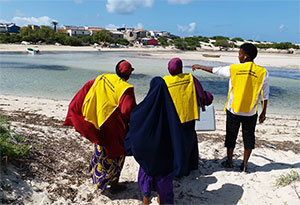 19 December 2018 - Since polio was confirmed in Somalia in late 2017, health authorities have led a complex response to twin outbreaks of circulating vaccine-derived poliovirus type 2 and type 3 (cVDPV2 and cVDPV3), paying special attention to high-risk populations: nomads, internally displaced people (IDPs), and people living in peri-urban slums and rural areas.
Somalia has a rich culture of people leading pastoral lifestyles, raising livestock and moving with them as the seasons and the weather change. Nomadism has a long history in Somalia and nomads have a special place in Somali society: almost a third of Somalia's people are nomads. According to an expert from the Core Group Polio Project, which focuses on vaccinating children from families living along the borders of Somalia, Ethiopia and Kenya, Somane Mohamed, communities living in these areas share cultural, family and economic ties. They do not observe formal international borders – just like the poliovirus. For health workers, this context poses a significant challenge: How can you be sure you have vaccinated every last child when so many children are on the move?