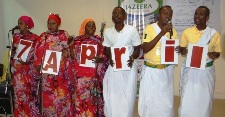 On 7 April 2014, World Health Day was celebrated in Somalia under the theme vector-borne diseases. World Health Day marks the day in which the World Health Organization (WHO) was founded in 1948 and each year it is an occasion to draw attention to issues of public health concerns. This year's campaign, with the slogan "Small bite: big threat", aims at shedding light on the health threats posed by vectors, which are small organisms (such as mosquitoes, flies, ticks and bugs) that carry and spread diseases from person to person and place to place.
"As our world changes and develops around us, and as we travel more frequently and easily to other countries, so the threat posed by these diseases is also changing," said Dr Ala Alwan, WHO Regional Director for the Eastern Mediterranean Region. "Over the years, some of them have spread to areas where they did not occur before, and they have expanded and intensified their transmission in places where they are already present."
» Full story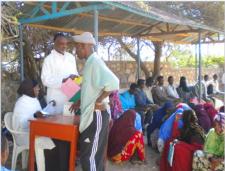 Tuberculosis (TB) is a serious public health problem in Somalia. In 2013, more than 13 000 new cases were detected, one every 40 minutes. It is estimated that every 100 000 persons, 532 have contracted the disease, and the number of cases detected every year continue to increase.
Asha, an 11-year-old girl from Sanaag region, was diagnosed with tuberculosis in January 2013. She immediately started anti-TB therapy at the local TB centre, but her condition did not show any considerable improvement. When she completed the 6-month anti-TB treatment cycle, her condition deteriorated rapidly. The health workers who were treating her decided then to refer her to Hargeisa, where she could undergo further tests. In August, after samples were sent to a laboratory in Uganda, she was diagnosed with multidrug-resistant tuberculosis (MDR-TB), a form of TB caused by bacteria strains that do not respond to the medicines used in standard TB treatment.
» Full story
World Health Day 2014: Vector-borne diseases in Somalia

Treating patients for multidrug-resistant tuberculosis in Somalia