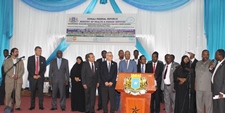 The Somali Federal Government, with support WHO, UNFPA and UNICEF and the Inter-Governmental Authority on Development (IGAD), launched two important initiatives and a report to ensure the health and wellbeing of mothers and children. The Somali national Mother and Child Health (MCH) Acceleration Plan to improve maternal and child health, alongside the Campaign on Accelerated Reduction of Maternal Mortality in Africa (CARMMA), and the State of the World's Midwifery Report 2014.
The ceremony took place in Mogadishu on 19 August 2014 and was attended by the Prime Minister Abdiweli Sheikh Ahmed, the Minister for Health (FGS) Ali Mohamed Mohamoud, cabinet ministers, Dr Ala Alwan the WHO Regional Director,Eastern Mediterranean Region, the UN Resident and Humanitarian Coordinator for Somalia Phillipe Lazzarini, donors, parliamentarians, women associations, civil society organizations, the Country representatives of WHO, UNFPA and UNICEF, the Chair of the AU Commission, among others.
» Full story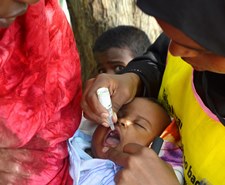 22 July 2014 - Four new cases of polio have been confirmed this year, in the remote Jariban district in Mudug region. This brings to 198 the total number of cases in Somalia since the outbreak of polio was confirmed in May 2013. The Ministry of Health with the support of WHO, UNICEF and partners carried out case investigation as well as outbreak response activities. The current round of vaccinations will run until 25 July and will target close to half a million children under the age of 10 years in the outbreak area and eight surrounding districts.
Since January 2014, a total of 9 rounds of vaccination campaigns have been conducted in Somalia targeting more than 1.5 children under the age of five. More campaigns will be conducted until the end of 2014.
Read more on the press release
» Full story
Somali Government and partners renew commitment to end preventable deaths of mothers and children

Polio transmission ongoing in Somalia