4 March 2014, Ramallah, West Bank - The Palestinian Ministry of Health, with WHO technical support in oPT, launched a bio-behavioural HIV study at a Ramallah dissemination workshop held on 20 February 2014. Eighty-five health and drug experts from UN agencies, West Bank universities, Palestinian ministries, community organizations and study participants attended. The study, carried out in October 2013, had enlisted 288 injecting drug users (IDUs) in three West Bank governorates in order to understand the epidemiological pattern in this low-prevalence setting specifically to assess the prevalence of HIV, hepatitis B and hepatitis C  and relevant risk-taking behaviours. The study was carried out by an international consultant from the WHO Hub in Croatia, with facilitation by local nongovernmental organizations.
» Full story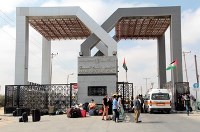 Rafah border crossing, October 201325 February 2014, Jerusalem – WHO publishes January 2014 monthly report on referral of patients from the Gaza Strip. 
Access to health services is a fundamental element of the right to health and obstacles to this right can compromise health status. International humanitarian law and human rights law both uphold the right to health as a basic human right, and particularly call for states to protect, respect and fulfil the right to access health care and especially during conditions of conflict.
» Full story
Palestinian Ministry of Health launches bio-behavioural HIV study in West Bank

WHO publishes January 2014 monthly report on referral of patients from the Gaza Strip