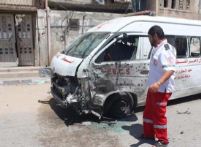 Two Palestinian Red Crescent ambulances were attacked in Beit Hanoun on 26 July, killing one worker and injuring three others. Photo: International Crescent of the Red Cross.The number of deaths rose sharply on 25 and 26 July as ambulance teams were able to enter areas to evacuate bodies during the 12-hour ceasefire, which had been previously inaccessible when violence was ongoing. 152 bodies were evacuated during the period. It is likely that some died from lack of access to medical treatment. Overcrowding and inadequate services for the 215 000 of displaced persons (OCHA) are a concern.
A total of 8 hospitals and at least 12 primary health clinics have been damaged in the violence. Five hospitals are closed and two partially due to damages incurred, and three others due to lack of security for staff and patients to access, reducing hospital capacity by 552 beds, almost 20% of total capacity in Gaza.
Read the latest situation report
» Full story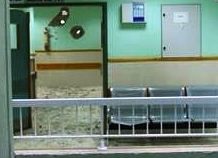 A WHO/OCHA team visited al Aqsa hospital in Deir al Balah after an attack on 21 July 2014 killed one patient and three companions and injured 16. All patients were evacuated and the 100-bed hospital is no longer functioning.24 July 2014 - WHO is greatly concerned about the human suffering and deterioration of living conditions in Gaza as a result of the ongoing conflict. Access to health care is being seriously undermined.
Every day, more hospitals, clinics and ambulances are damaged, destroyed or rendered unable to function, further constraining the ability of the health system to care for the increasing numbers of civilian casualties. As of 22 July, reports indicate that 3993 people have been injured, most of them women and children, and 622 people killed.
Four hospitals, twelve clinics, ten ambulances, a specialized centre for the disabled, and two water desalinization centres have been damaged.
Read more about the health crisis in Gaza
» Full story
Situation report update 29 July 2014

WHO calls for creation of humanitarian corridor in Gaza