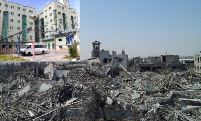 Al Wafa Medical Rehabilitation Hospital in Shejaiiyah neighbourhood, Gaza city, before and after its destruction in late July 2014. Photo credit by al Wafa.Between August 23 and 26, 38 persons were killed, 457 were injured, and four high commercial and residential tower blocks were destroyed. 30 clinics that had been damaged were closed as of August 27. This has hindered access for residents especially in outlying areas. Power cuts prevailed throughout Gaza for up to 18 hours or more daily, as lines from Israel were damaged again earlier in the week. However, more than 60% of the water network was reported to be again functioning.
The process of field assessment for damage and needs in each sector was delayed during the ceasefire breakdown but by August 27 began to be carried out by UN agencies, ministries, local governments and organizations.
Read the latest situation report
» Full story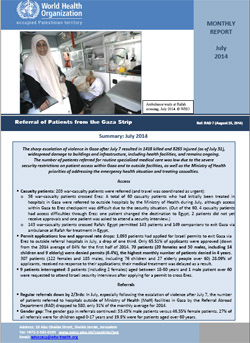 Click on image to download26 August 2014, Jerusalem – WHO has published its July 2014 monthly report on referral of patients from the Gaza Strip. Access to health services is a fundamental element of the right to health and obstacles to this right can compromise health status. International humanitarian law and human rights law both uphold the right to health as a basic human right, and particularly call for states to protect, respect and fulfil the right to access health care, especially during situations of conflict.
 Monthly report on referral of patients from the Gaza Strip, July 2014 |  Previous referral reports
Annual RAD report 2011 and 2012
Annual RAD report 2010
» Full story
Situation report update, 23–28 August 2014

WHO publishes July report on referral of patients from the Gaza Strip, August 2014