The health sector is continuing to work to recover following the damages to health facilities, and lack of access for staff and patients during the period of July and August. More than 90% of health facilities are operating although some are with limited services due to damage. With the exception of five Ministry of Health clinics which were destroyed totally, all other Ministry of Health clinics and all UNRWA clinics are reported to have opened for patients in the past week, including six primary health care clinics that had been closed for security reasons throughout the hostilities. Challenges remain due to the long-standing shortages of electricity, essential medicines and medical supplies.
Of the 90 UNRWA schools which were being used as shelters for displaced persons, 64 have been evacuated as families have returned to their homes, or moved to the homes of relatives, rented accommodations or transferred to other shelters. The former shelters are being prepared for students for the start of the UNRWA academic year in Gaza delayed to start on September 14. 
Read the latest situation report
» Full story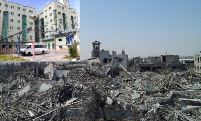 Al Wafa Medical Rehabilitation Hospital in Shejaiiyah neighbourhood, Gaza city, before and after its destruction in late July 2014. Photo credit by al Wafa.Between August 23 and 26, 38 persons were killed, 457 were injured, and four high commercial and residential tower blocks were destroyed. 30 clinics that had been damaged were closed as of August 27. This has hindered access for residents especially in outlying areas. Power cuts prevailed throughout Gaza for up to 18 hours or more daily, as lines from Israel were damaged again earlier in the week. However, more than 60% of the water network was reported to be again functioning.
The process of field assessment for damage and needs in each sector was delayed during the ceasefire breakdown but by August 27 began to be carried out by UN agencies, ministries, local governments and organizations.
Read the latest situation report
» Full story
Situation report update, 7 September 2014

Gaza situation report update, 23–28 August 2014