On 7 July, 2014, the Israeli army launched a military operation in the Gaza Strip. During the 50-day crisis over 2100 Palestinians were killed and more than 11 000 injured, 18 000 homes destroyed or severely damaged, with 108 000 homeless and over 290 000 people displaced.
Health facilities treating the sick and injured were damaged, some totally destroyed. During the hostilities 51% of all major hospitals and clinics in Gaza incurred damage.
WHO conducted assessment visits to hospitals during the war and spoke with patients. Here are some of their stories*.
WHO continues to work closely with the Palestinian Ministry of Health to provide much-needed health assistance to those affected by the recent violence.  
*Stories are personal accounts given directly by patients and/or affected family members. Interviews took place in Shifa hospital, Gaza City.
» Full story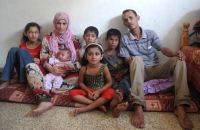 Mervat and her family in Gaza have suffered psychological scars from the recent conflict.September 2014 - Psychologist Hasan Zeyada lost his mother, three brothers, a sister-in-law, and a nephew when their home was destroyed on 20 July during the recent hostilities in Gaza.
The 50-day conflict kept the Gaza Community Mental Health Centre, where Zeyada is director, from operating, and he had to wait more than a month before the 26 August ceasefire allowed him to return to work . All that time he knew what was awaiting him: a vastly increased number of people needing help, with many feeling as he was feeling. Or worse.
"I'm a human being," he says. "I know more than ever what they feel. They are overwhelmed. A lot of people need help. Among children alone, we are talking about insomnia, nightmares, hyperactivity, fatigue, headaches, attention problems, stuttering, and bedwetting."
» Full story
50-day crisis: stories from Gaza

Shell-shocked Gazans seek to expand mental health services in wake of conflict