WHO invites international agencies for Gaza field visit to see health challenges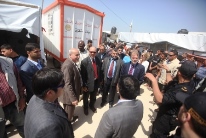 More than 40 representatives of UN and international agencies and donor governments participated in the event, which was led by UN Resident Coordinator Mr James Rawley and WHO Head of Office, Dr Gerald Rockenschaub.On 28 April 2015 WHO hosted a Gaza Health Day event in which United Nations (UN), donor governments and international agencies were invited to view damaged health facilities in the Khan Younis district, south Gaza Strip, to look at the challenges in providing continuity of health care in Gaza.
Some of the challenges facing the health sector include: chronic shortages of medicines, supplies, electricity and movement restrictions for referral patients. Half of the Ministry of Health staff in Gaza have not been paid since June 2014.