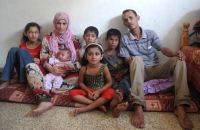 Mervat and her family in Gaza have suffered psychological scars from the recent conflict.September 2014 - Psychologist Hasan Zeyada lost his mother, three brothers, a sister-in-law, and a nephew when their home was destroyed on 20 July during the recent hostilities in Gaza.
The 50-day conflict kept the Gaza Community Mental Health Centre, where Zeyada is director, from operating, and he had to wait more than a month before the 26 August ceasefire allowed him to return to work . All that time he knew what was awaiting him: a vastly increased number of people needing help, with many feeling as he was feeling. Or worse.
"I'm a human being," he says. "I know more than ever what they feel. They are overwhelmed. A lot of people need help. Among children alone, we are talking about insomnia, nightmares, hyperactivity, fatigue, headaches, attention problems, stuttering, and bedwetting."
» Full story
The health sector is continuing to work to recover following the damages to health facilities, and lack of access for staff and patients during the period of July and August. More than 90% of health facilities are operating although some are with limited services due to damage. With the exception of five Ministry of Health clinics which were destroyed totally, all other Ministry of Health clinics and all UNRWA clinics are reported to have opened for patients in the past week, including six primary health care clinics that had been closed for security reasons throughout the hostilities. Challenges remain due to the long-standing shortages of electricity, essential medicines and medical supplies.
Of the 90 UNRWA schools which were being used as shelters for displaced persons, 64 have been evacuated as families have returned to their homes, or moved to the homes of relatives, rented accommodations or transferred to other shelters. The former shelters are being prepared for students for the start of the UNRWA academic year in Gaza delayed to start on September 14. 
Read the latest situation report
» Full story
Shell-shocked Gazans seek to expand mental health services in wake of conflict

Situation report update, 7 September 2014