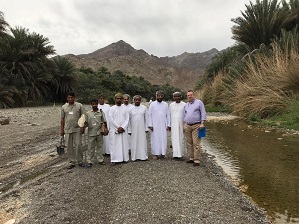 14 May 2019 – Globally, an estimated 3.3 billion people are at risk of malaria, of whom 1.2 billion are at high risk. Yet malaria is an entirely preventable and treatable mosquito-borne illness.
Historically, malaria was one of the major public health problems in Oman. In 1991, the national malaria eradication programme was launched in Sharqiya (north and south) governorates as a pilot project.
Its strategies applied vector control (mainly larvaciding), early case detection and prompt (radical) treatment. The success of the programme enabled its expansion to other governorates in a phased manner, with the goal of reaching an annual parasite incidence (API) of 1/10 000 population by 2000.
» Full story
18 November 2018 – Medical devices and equipment play a significant role in health care. Most countries spend 25% to 30% of their health budget on purchasing new technologies to address the growing health challenges. As part of WHO's work with countries on increasing access to safe, good quality and affordable medical products, a mission was sent to Oman to help build regulatory capacity in this area.
» Full story
Malaria elimination efforts in Oman

Building regulatory capacity for medical devices