The World Health Organization (WHO) confirmed the first cases of 2019-nCoV in the Eastern Mediterranean Region in the United Arab Emirates. This follows earlier confirmation by the Ministry of Health and Prevention of the United Arab Emirates on 29 January. Four members of the same family from Wuhan City in China arrived in the United Arab Emirates beginning/mid-January 2020, and were hospitalized on 25 and 27 January after testing positive for coronavirus. Two of the patients are asymptomatic.
"The Regional Office continues to monitor disease trends and work with Member States to ensure the highest degrees of readiness to detect and respond to potential cases," affirmed WHO's Regional Director, Dr Ahmed Al Mandhari. This is vital to controlling transmission, and providing effective treatment to those who become ill. We urge individuals to stay calm and take the necessary precautions to keep themselves and their loved ones safe."
» Full story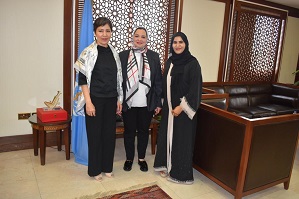 In an on-site mission to Oman conducted during the period 7-9 January 2020, WHO experts have re-certified the proficiency of the measles/rubella laboratory.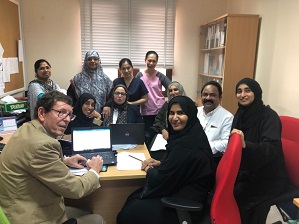 As one of two WHO Regional Reference Laboratories, this specialized laboratory monitors the performance and provides technical support to all 22 countries of the Eastern Mediterranean Region. The results of the laboratory were critical to demonstrate that Oman has achieved elimination of measles/rubella. WHO also acknowledges the pivotal role of the Oman laboratory for the successful elimination of the two viral diseases in Bahrain and in Islamic Republic of Iran. Indeed the results of its molecular tests are indispensable for investigating the epidemiology of measles, for identifying sources of infection and for tracing routes of transmission between cases not only in Oman, but also throughout the Region. Thus, as one of only few WHO Regional Reference Laboratories, the centre in Oman plays a highly prominent role within the WHO Global Laboratory Network of more than 700 national and subnational laboratories. With the resurgence of measles in many countries, its contribution towards the WHO effort for worldwide measles/rubella elimination becomes ever more important.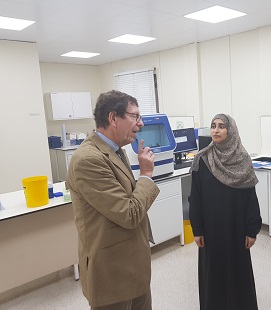 The WHO expert team included Dr. Amany Ghoniem, the WHO Regional Laboratory Coordinator based in WHO Regional Office for the Eastern Mediterranean, Cairo and Prof. Claude P. Muller of the WHO Regional Reference Laboratory based at the Luxembourg Institute of Health in Luxembourg, Europe.
» Full story
WHO confirms first cases of novel coronavirus (2019-nCoV) in the Eastern Mediterranean Region

WHO certifies proficiency of Oman's measles/rubella laboratory