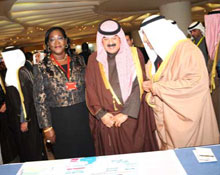 Located in the Regional Office, the WHO Kuwait desk officer works with the Government and health authorities to strengthen national health services, address public health issues, and support and promote research for health.

The desk officer assembles and coordinates the support of all technical, administrative and financial capabilities in the Regional Office to support the Government of Kuwait at its request.
The Kuwait desk officer supports the Government in comprehensive reviews of the country's situation and needs; policy analysis; formulation, implementation, monitoring and evaluation of strategies for health for all; development of the national health system, bringing science and technology to bear on health development; and cooperative planning of programmes in which WHO is involved.