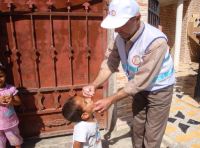 A national polio vaccination campaign led by the Ministry of Health and supported by WHO and UNICEF was conducted in 18 governorates around Iraq. Photo: Dr Nima Abid/WHO The national polio immunization campaign scheduled from 14 to 18 September 2014 has concluded successfully in all 18 governorates throughout Iraq. The campaign was the first national polio vaccination activity since May.
H.E the Prime Minister of the Kurdistan region visited Duhok governorate and convened a meeting with representatives of UN agencies and a number of ministers on 21 September. WHO attended the meeting and briefed H.E. on its response to the needs of internally displaced persons in Duhok in terms of provision of medicines and medical supplies, disease surveillance system activities, recruitment of staff, national capacity-building, and support to immunization campaigns.
Read the latest situation report
» Full story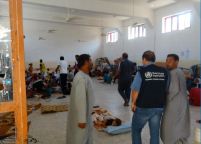 IDPs in Khanik town, Dohuk. Photo credit: Mohamed Hamasha/WHO29 September 2014 - The security situation inside Mosul City is relatively stable. Fuel and electricity suppliesremain disrupted. Medicines and medical equipment are available in functional hospitals and primary health care centres with the exception of medicines for chronic diseases, chemotherapy and anaesthetics.
Official sources in Kerbala governorate announced that the total number of internally displaced persons (IDPs) has exceeded 60 000. The governorate council decided on 17 August to stop accepting new IDPs due to overburdened social and health services.
The Federal Ministry of Health in Baghdad has delivered medicines and medical supplies to affected governorates throughout the country. 
Read the latest situation report
» Full story
Situation report update, 25 August–22 September

Situation report update, 9–24 August 2014