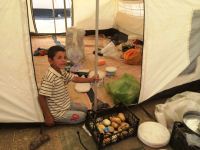 Garmawa camp in Dohuk hosts more than 800 internally displaced Iraqis6 July, 2014, Erbil, Iraq -- The governorate of Dohuk in Iraq's Kurdistan region has seen its population increase by almost 20% over the past three years, hosting more than half of the country's Syrian refugees in the country and receiving an additional 200 000 internally displaced Iraqis in June 2014.
"At the beginning of the Mosul crisis, we set up mobile health clinics at the border crossing between Mosul and Dohuk, stocked with medicines and medical supplies provided by WHO," said Dr Bakhtiyar Ahmed, head of the technical department. "Many of those being treated had bullet wounds and shell injuries. There were also three babies delivered at the mobile clinic and 28 women were referred to Dohuk maternity hospital."
» Full story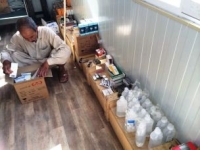 Some of the supplies provided by WHO will be distributed by the national health authorities to clinics such as this one in Garmawa camp, Dohuk Erbil, Iraq, 5 July – The World Health Organization has provided medicines and medical supplies for more than 170 000 beneficiaries in areas affected by the recent crisis in Iraq. Many of these areas are experiencing ongoing clashes, creating challenges for affected populations requiring health services in the midst of insecurity.
In the Sinjar district of Ninewah governorate, more than 8000 internally displaced persons are living in schools, houses under construction and rented accommodation.
» Full story
WHO supports health response for internally displaced Iraqis in Dohuk

WHO provides urgently needed health supplies to internally displaced populations in Iraq