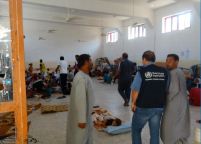 IDPs in Khanik town, Dohuk. Photo credit: Mohamed Hamasha/WHO29 September 2014 - The security situation inside Mosul City is relatively stable. Fuel and electricity suppliesremain disrupted. Medicines and medical equipment are available in functional hospitals and primary health care centres with the exception of medicines for chronic diseases, chemotherapy and anaesthetics.
Official sources in Kerbala governorate announced that the total number of internally displaced persons (IDPs) has exceeded 60 000. The governorate council decided on 17 August to stop accepting new IDPs due to overburdened social and health services.
The Federal Ministry of Health in Baghdad has delivered medicines and medical supplies to affected governorates throughout the country. 
Read the latest situation report
» Full story
Erbil, Amman, 2 September 2014 – Despite the ongoing conflict, violence and displacement across Iraq, a mass polio immunization campaign succeeded in reaching 3.75 out of 4 million children under the age of 5.
The five-day campaign between 10 and 14 August was organized by the Iraqi Ministry of Health with the support of UNICEF and the World Health Organization (WHO), and was part of the national response to the re-emergence of the poliovirus in Iraq earlier this year. The campaign comes at a time when the number of displaced children continues to increase on a daily basis. Approximately 65 000 internally displaced children were vaccinated in the Kurdish Duhok governorate alone.
» Full story
Situation report update, 9–24 August 2014

Amid ongoing conflict, Iraq completes massive polio campaign for children with support of UNICEF and WHO