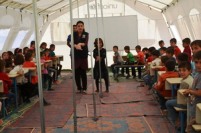 The outbreak underscored the value of EWARN in humanitarian crisis settings for early detection and control of epidemic-prone diseases. It is currently being scaled up by WHO in all countries affected by the Syria crisis17 November 2013 – Humanitarian crisis are often associated with increased risk of communicable disease outbreaks due to the exposure of refugees populations to multiple risk factors.
These risk factors may include: unsafe water; overcrowding and poor or insanitary living conditions in the camps; lack of access to clinical and preventive services; exposure to new pathogens due to the displacement of people to unfamiliar environments; and sometimes, conditions associated with the crisis that favour proliferation of disease-causing pathogens.
» Full story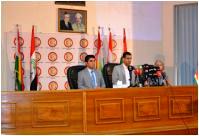 WHO, the Ministry of Health of Iraq, and UNHCR host the inaugural Health and Nutrition Working Group
Aiming to improve the health of Syrian refugees in Iraq
On Monday 28 October 2013, the Ministry of Health of Iraq, WHO, and the United Nations Office of the High Commissioner for Refugees (UNCHR) held the first Health and Nutrition Working Group meeting in the Kurdistan Region of Iraq. The meeting focused on the specific health and nutritional needs of all Syrian refugees in Iraq.
The inaugural working group discussed the need for the establishment of a sustainable surveillance system that can competently monitor disease trends among Syrian refugees inside and outside the camps. Similarly, the construction of health centres in the refugee camps is a priority. Supplying prefabricated caravans will ensure accessible health services. 
» Full story
WHO responds effectively to an outbreak of hepatitis A among Syrian refugees in northern Iraq

WHO/Iraq launches the first Health and Nutrition Working Group