18 August, 2014, Erbil - Humanitarian health services in Iraq have received a much-needed boost through a $US 50 million grant provided by Saudi Arabia to WHO for its response to the health crisis facing millions of people affected by the ongoing conflict.
The recent upsurge in violence, massive population movement, and presence of over 250 000 Syrian refugees in northern Iraq is straining an already beleaguered health system. The donation from Saudi Arabia, the largest ever humanitarian contribution to WHO for a specific crisis, enables WHO to scale up its response to disease outbreaks, malnutrition, medicine shortages and overburdened hospitals and clinics.
Humanitarian health care providers will tackle medical complications resulting from malnutrition by providing targeted support to 350 000 people, including children under the age of five, pregnant and lactating women and patients suffering from severe malnutrition," says Dr Syed Jaffar Hussain, WHO's Representative to Iraq.
Read more about Saudi Arabia's donation for the crisis in Iraq
» Full story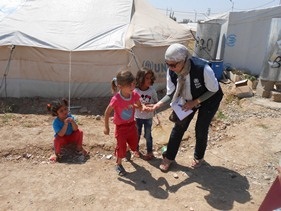 13 August, 2014 – The World Health Organization is supporting the delivery of urgently needed health services to people affected by insecurity in northern Iraq, including tens of thousands of children, women and men trapped on Sinjar Mountain and many more who have escaped to safer areas. 
"The health situation on Sinjar Mountain is precarious for approximately tens of thousands of  people believed trapped there, while more than 60,000 who have crossed the FeshKhabour border-point through Syria to enter back into Iraq at Dohuk," said Dr Jaffar Hussain, WHO's Representative to Iraq. 
Read more about WHO's response in northern Iraq
» Full story
Saudi Arabia supports WHO's response to the Iraq crisis

WHO responds to health challenges facing people trapped on Iraq's Mount Sinjar