Erbil, Amman, 2 September 2014 – Despite the ongoing conflict, violence and displacement across Iraq, a mass polio immunization campaign succeeded in reaching 3.75 out of 4 million children under the age of 5.
The five-day campaign between 10 and 14 August was organized by the Iraqi Ministry of Health with the support of UNICEF and the World Health Organization (WHO), and was part of the national response to the re-emergence of the poliovirus in Iraq earlier this year. The campaign comes at a time when the number of displaced children continues to increase on a daily basis. Approximately 65 000 internally displaced children were vaccinated in the Kurdish Duhok governorate alone.
» Full story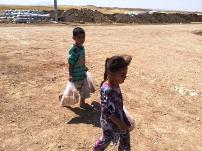 27 August 2014 - Blocked roads between Anbar governorate's cities and districts are hampering humanitarian efforts to provide basic needs of food, drinking-water and health supplies. Shortages in electricity, fuel, and chlorine for water sterilization are further impacting the living conditions of internally displaced persons in the governorate.
In Salah El Din governorate, health facilities are reporting shortages in electricity, water, health supplies and health personnel. Five out of nine hospitals are non-functional.
The national polio immunization campaign from 4 to 14 August was unable to cover Sinjar district due to insecurity, lack of qualified health personnel and the absence of electricity required to maintain the vaccine cold chain.
Read the latest situation report
» Full story
Amid ongoing conflict, Iraq completes massive polio campaign for children with support of UNICEF and WHO

Situation report update, 27 August 2014