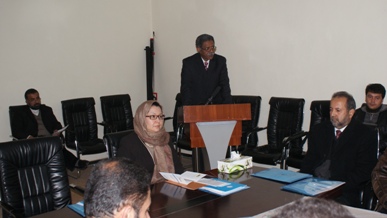 Kabul, 6 February 2013 – The Ministry of Public Health, in collaboration with WHO, the Afghan Society Against Cancer, the Afghanistan National Public Health Association, Kabul Medical University and the Organization for Health Promotion and Management commemorated World Cancer Day for the first time in Afghanistan on 6 February 2013.
H.E. Dr Suraya Dalil, Minister of Public Health, reaffirmed the Ministry's firm commitment to work with partners to draft Afghanistan's Strategic Plan for the Control of Cancer.
Dr Ahmed F. Shadoul, WHO Representative for Afghanistan, said, "This initiative presents the commitment and dedication of the Ministry of Public Health in improving the health status of people and reducing morbidity and mortality not only due to communicable diseases in Afghanistan, which seems to be the first priority, but also due to noncommunicable diseases, especially cancer, which is also becoming an emerging public health problem in the world as well as in Afghanistan".