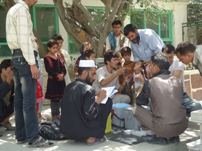 About 27 000 health workers, volunteers and community mobilizers fanned out across 17 provinces of Afghanistan in a drive to eradicate measles and polio from the country under a WHO/UNICEF-supported government campaign10 July 2012 – WHO supported the preparation and launch of a vaccination campaign drive integrating both measles and polio vaccine. More than 5.6 million children between the ages of 9 months and 10 years received one dose of measles.  Children up to 10 years old were administered anti-polio drops.
As part of the measles and rubella initiative, Afghanistan has committed itself to eliminating measles by the end of 2015.
The country started its first measles elimination drive in 2001 through a nationwide campaign, and two follow-up anti-measles campaigns were implemented in 2006 and 2009. In light of the lower routine measles coverage and frequent outbreaks of measles, the Ministry of Public Health decided to conduct an anti-measles campaign this year.

Although the elimination of measles remains a priority in the national health agenda, funding constraints only allow for the coverage of 17 out of 34 provinces in the country. WHO, the Ministry of Public Health and partners are calling on donors to cover the remaining provinces in the next phase.