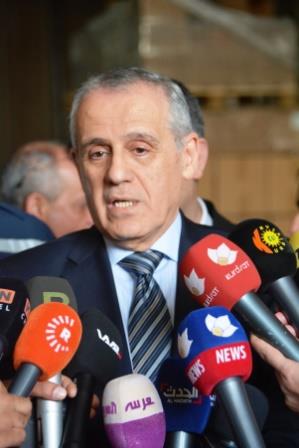 Dr Ala Alwan, WHO Regional Director for the Eastern MediterraneanBaghdad, Iraq, 16 March, 2015 -- WHO's Regional Director for the Eastern Mediterranean Dr Ala Alwan continues his visit to Iraq to review the unmet health needs of populations affected by the conflict due to lack of funding. Out of the US$ 314.2 million required by the health sector, only US$ 95.5 million has been received (30.4%), leaving a critical funding gap of US$ 218.7 million.
"The situation is alarming," says Dr Alwan. "More than 5 million people in Iraq are currently in need of health services. While WHO and health partners are doing all we can to save lives, our efforts are hindered by insufficient funding. The longer we wait, the more critical the situation becomes for those who need urgent, life-saving health services. We urge the international donor community to act immediately to allow us to continue our work."
The required funds will provide urgently needed life-saving emergency medical and primary care services, prevent and control communicable diseases including polio and measles, ensure the provision of mental health services and reproductive health services, and detect and respond to cases of acute malnutrition among internally-displaced persons (IDPs) and host communities.
"Due to the enormous effort and achievement made so far, no major disease outbreaks have been seen in the IPD camps where the risk of communicable diseases increases", said Dr Adila Hammoud, the Minister of Health of Iraq. "However, If no funds are received to sustain this success, the health situation of millions of people will be at risk," she noted.
On Saturday 14 March, Dr Alwan, opened a primary health care centre and handed over 15 ambulances and 2 mobile medical clinics to health authorities in Dohuk, Iraq. The urgently needed donation will provide health services and medical treatments for more than 60 000 beneficiaries for three months.
As a result of the conflict in Iraq, almost 5.2 million people across the country are in need of humanitarian assistance, of whom, more than 2.5 million people are internally displaced. An estimated 80% of health facilities are only partially functional and the departure of more than 45% of health professionals who fled the violence with their families has created a gap in the provision of primary healthcare, trauma surgery and obstetric care in areas where violence is ongoing. The rapid and mass influx of IDPs has overwhelmed the health system, causing critical medical shortages and overburdening of the health facilities.
"Displaced populations in Iraq who need critical health services cannot afford to wait any longer. Children need to be vaccinated against life-threatening diseases, pregnant women and mothers need access to maternal and child care services, people with chronic diseases such as cancer or diabetes need regular treatment and medicines," said Dr Alwan.
The renowned Iraqi musician Mr Naseer Shamma is with the Regional Director in Iraq and is volunteering his time to raise awareness on the urgent health needs of populations affected by the conflict.
Since the escalation of the crisis in June 2014, WHO has provided essential medicines and medical supplies for a total of 1.2 million beneficiaries throughout Iraq. Together with national and UN health partners, WHO was able to vaccinate more than 5.6 million children against polio and 3.9 million children against measles through national and subnational immunization campaigns. The Organization has also enhanced access to health care services through the provision of mobile and fixed health facilities, recruited doctors and nurses to strengthen the health workforce, deployed partners from the Global Outbreak and Response Network (GOARN) to assess increasing public health risks, strengthened the EWARN and disease surveillance throughout the country and trained national health staff on surveillance and case management.
However, while achievements have been made in the area of health in Iraq, much more still needs to be done. "Unless immediate action is taken by the regional and international donor community to support the work of WHO and its health partners, the 5 million men, women and children who require health services will be unable to receive the treatment they urgently need," reiterated Dr Alwan.
Related link
WHO Regional Director inaugurates primary health care centre and hands over urgently needed mobile medical clinics and ambulances to health authorities in Dohuk, Iraq, 14 March 2015
For additional information, please contact:
Rana Sidani, Senior Communication Officer
+201099756506
email: Cette adresse email est protégée contre les robots des spammeurs, vous devez activer Javascript pour la voir.
Ajyal El-Sultany, Communication Officer
009647510101469
email: Cette adresse email est protégée contre les robots des spammeurs, vous devez activer Javascript pour la voir.
Pauline Ajelo, Communication Officer
009647809288618
email: Cette adresse email est protégée contre les robots des spammeurs, vous devez activer Javascript pour la voir.