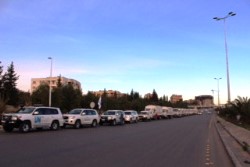 19 February 2016 – It was another huge sigh of relief for the people in need in the 5 besieged areas of Madaya, Foah, Kafraya, Zabadani and Mouadamiya al-Sham as 100 aid trucks simultaneously delivered humanitarian assistance, including life-saving medicines and therapeutic nutrition supplies. 
As part of the current interagency convoy, WHO provided about 18 tonnes of life-saving medicines and supplies to beneficiaries in the 5 towns according to need. In Mouadameya, 16 tonnes of lifesaving medicines, including primary health care medicines, therapeutic nutrition supplies for in-patients with severe acute malnutrition, and a haemodialysis machine and sessions were delivered while the remaining supplies were distributed to Madaya, Foah, kafraya and Zabadani. 
Meanwhile, the Mouadameya convoy encountered removal of medicines for 29 810 treatments, including medicines needed for emergency, trauma care, antibiotics, analgesics, vitamins and other medicines needed for noncommunicable disease treatment of hemodialysis patients and epilepsy.
"Delivery of life-saving medicines and essential medical supplies to people in  hard-to-reach, opposition-controlled and besieged areas must be supported by medical teams to strengthen health care delivery in areas of dire shortages of medical personnel," said Elizabeth Hoff, WHO Representative to Syria.  
The United Nations estimates that 486 700 people live in 18 besieged areas of Syria, and 4.6 million people in hard-to-reach areas. In some areas, gross shortage of medical personnel, severe acute malnutrition, starvation and deaths have been reported.
Humanitarian responders have demanded for unhindered access to all besieged areas across Syria, where hundreds of thousands of people are trapped by various parties to the conflict.