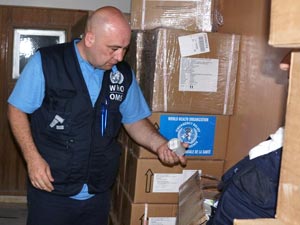 21 June 2016 – With another delivery of lifesaving treatments to East Ghouta in Syria on 19 June 2016, the World Health Organization (WHO) has reached, this year, the besieged district with over 30 tonnes of urgently needed medicines and supplies for an estimated population of 246 000 people in need.
This was the sixth delivery of lifesaving medicines and supplies by WHO to East Ghouta in the last 4 months, which has included medicines, incubators, water testing kits and other medical equipment. Since February 2016, the Organization has delivered over 135 000 treatments to East Ghouta, including lifesaving and noncommunicable diseases medicines, anaesthetics, medical equipment, trauma kits and oral rehydration solution.
"We are eager and committed to deliver regular health assistance to people in need in all locations of Syria where access is granted, especially to the besieged areas, including East Ghouta," said Elizabeth Hoff, WHO Representative in Syria.
WHO continues to call on all parties to the conflict to lift the siege on all besieged locations and to allow unhindered and sustained access to humanitarian aid workers to provide lifesaving aid to populations in need.
For further information:
Rana Sidani
Senior Communication Officer
Media and Communication Unit
WHO Regional Office for the Eastern Mediterranean
Direct: +20 2 22765552
Mobile: +20 1099756506
email: Cette adresse email est protégée contre les robots des spammeurs, vous devez activer Javascript pour la voir.