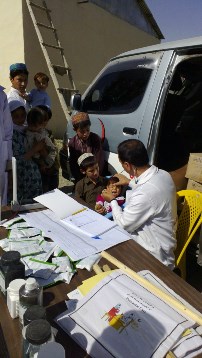 In Paktika province, mobile health services are provided for refugees who fled the conflict in Pakistan's North Waziristan AgencyThe conflict between Afghan National Security Forces and anti-government elements escalated in many parts of Afghanistan in the recent month, resulting in deaths and injuries as well as further burdens on the country's health services, especially in Ghazni province. During September WHO and partners provided much-needed supplies to the Ghazni provincial hospital to enable treatment of conflict-related injuries.
In September, the National Disaster Management Plan for Afghanistan was finalized. The new document places emphasis on policy and legislative changes as well as developing and operationalizing a disaster coordination and command system and an information management system. Eleven provinces also finalized their Mass Casualty Management Plans in the past month. WHO-supported trainings on emergency trauma care for surgeons from nine provinces continued.
Measles outbreaks remain a concern for under-five morbidity and mortality in Afghanistan. Pertussis outbreaks are also increasing as routine vaccination coverage for penta vaccine continues to be low. The Crimean-Congo haemorrhagic fever (CCHF), a virus primarily transmitted to people from livestock animals, continues to be a threat in parts of Afghanistan, with potentially harmful effects for the people and the economy since many rely on industries related to livestock.