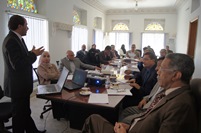 The Director of the national AIDS control programme in Yemen Dr Abdul-Hamid Al-Suhaibi reviews plans for Global Fund support29 January 2015 - During a meeting with representatives of the Global Fund's Country Coordinating Mechanism to Fight AIDS, Tuberculosis and Malaria on Wednesday 28 January 2015, the national AIDS control programme, with the support of WHO, UNAIDS and UNICEF, reviewed their concept note requesting financial support from the Global Fund estimated at US$ 10 million in order for Yemen to cover the needs of the national AIDS programme for 2016-2018.
The meeting was attended by government officials and representatives of international and national organizations. Dr Ahmed Shadoul, WHO Representative in Yemen, lauded the commitment of the attendants towards the HIV issue despite the political instability that Yemen is going through.
The Director of the national control programme at the Ministry of Public Health and Population Dr Abdul-Hamid Al-Suhaibi reviewed the plans aimed at confronting the different challenges facing HIV activities in Yemen, such as shortage of financial and human resources.
Al-Suhaibi indicated that there is intention by the Global Fund and WHO to activate the common aspects between HIV and tuberculosis. He added, "Planning is ongoing to increase the coverage of providing medication and targeting high-risk groups,"
The support of the Global Fund will include meeting the need of services for those most vulnerable to HIV through delivering awareness activities and prevention services, as well as boosting information systems and research for the next three years.
WHO offered technical support to prepare the concept note, put forward the proposal for the support and provided consultation for the national team who prepared the proposal. It also sponsored a workshop and consultative meeting in this regard.
Related link