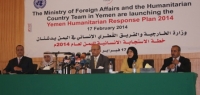 Sana'a, 17 January 2014 — The Yemeni Government with national and international partners launched on Monday the humanitarian response plan for 2014. The plan requests US$ 592 million to deliver humanitarian assistance to 7.6 million venerable people of Yemen.
The launching ceremony was attended by ministers, ambassadors, UN agencies, NGOs and high-ranking officials as the government officials and the UNC representatives briefed the participants on the humanitarian situation in the country and the critical need for the engagement of humanitarian partners and the international community to reduce and mitigate the suffering of Yemenis.
Dr Abu Bakr Al-Qirbi, Minister of Foreign Affairs, said that political crisis has negatively affected the humanitarian situation in Yemen.
"The humanitarian conditions still constitute a major challenge to the Government," he said. "The humanitarian situation is high on government's lists of priorities."
Until last December, 6.4 million people needed emergency health assistance in Yemen. WHO and health partners have prioritized support for the most vulnerable who suffer from environmental hazards, limited health care, insufficient vaccination coverage, high rates of malnutrition and intermittent disease outbreaks.
Dr Ahmed Al-Ansi, Minister of Public Health and Population, outlined the most urgent health needs in Yemen during the conference.
"We need to tackle malnutrition in the most vulnerable areas and need to fight epidemic disease and keep Yemen a polio-free country," he stressed. "We also want to bridge the gap of the needs for medicine, boost the health services for refugees and displaced, provide clean water and sanitation and improve emergency medical services."
According to UN Office for the Coordination of Humanitarian Affairs (OCHA), more than 300 000 people have been displaced across the country with up to 400 000 Yemenis returned from Saudi Arabia. Influx of refugees and migrants has also caused multiple problems to health care services.
In line with humanitarian response objectives in Yemen, health cluster led by WHO strategized its health emergency response with focus on reducing morbidity and mortality through improved access to critical life-saving services for vulnerable men, women and children as well as addressing public health risks and responding to outbreaks of communicable diseases.
"The health care services capacity has been reduced significantly due to continued political instability, civil unrest, basic services disruption," said Dr Dauod Altaf, Emergency and humanitarian action coordinator at WHO Yemen, adding that health service availability and readiness have been reduced to a minimum in the conflict-affected areas.
In addition to its live-saving programmes, the cluster focused on providing training to health personnel, community mobilization, and supporting the disease surveillance and management of communicable diseases.