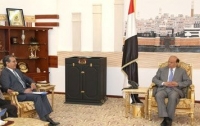 The President of Yemen, His Excellency Mr Abd Rabbo Mansour Hadi, received on Tuesday 23 April 2013 Dr Ghulam R. Popal, the WHO Representative for Yemen, as his term as WHO Representative in Yemen came to an end. Mr Popal has served as WHO Representative since 2006.
During the meeting the President expressed his appreciation of the efforts of WHO as the lead agency for health in Yemen and the Organization's support to improving health coverage and expanding primary health care services. He also thanked Dr Popal for his support and leadership and wished him success in his future duties.
Dr Popal expressed his great appreciation for the cooperation he received during his tenure from all officials and authorities in Yemen, particularly the Ministry of Health, and praised the level of political commitment towards health development in the country.