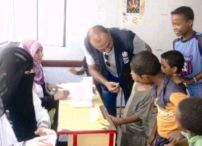 Schistosomiasis is a chronic disease caused by parasitic worms. At least 243 million people required treatment for the disease in 2011.12 November 2013 – A national schistosomiasis (bilharzia) eradication campaign was launched on Monday, targeting around 3 600 000 people in 51 districts of 12 Yemeni governorates.
About 4268 teams, 946 supervisors and 8536 medicine distributors are taking part in the four-day campaign that has been organized and funded by the joint partnership of the Ministry of Public Health and Population of Yemen, WHO, the World Bank and the Schistosomiasis Control Initiative, Imperial College, London.
The areas being targeted are those most affected with prevalence reaching 40% in some areas, according to Dr Basel Abdullah, coordinator of the National Campaign for Eradicating Bilharzia at the Ministry of Health. He pointed out that more than 9 million tablets were being distributed for bilharzia and other 3 600 000 for intestinal worms.
The campaign also set up 773 health facilities and opened 3713 schools for treatment; 11 474 mobile teams have been mobilized.
Dr Abdullah said that the WHO had played vital role in providing technical and financial support, conducting monitoring and evaluation, planning, giving training sessions and supervising the campaign.
"We depend on their technical support and surveys to reach the most affected areas," said Dr Abdullah. "WHO also helped us in mobilizing funds from other donors."
Unlike previous years, the campaign has received a considerable turnout in the first days, according to Dr Ahmed Al-Soufi, Technical Officer for Neglected Tropical Diseases at the WHO country office. "I noticed that people are becoming more aware about the significance of disease prevention," said Al-Soufi, adding that the campaign is going well and smoothly.
In June 2013, a technical review meeting of the Yemen Schistosomiasis Control Project (SCP) in Geneva, Switzerland, announced that the total of 9 598 173 Yemenis were treated for bilharzia and intestinal worms in two campaigns in March and May 2013. The current campaign is considered as the campaign of the third year. The number of people treated this year is huge in comparison with a total of 1.9 million people treated in 2012.
Over the last few years, Yemen has shown firm commitment to eradicating bilharzia. Three years ago, WHO Director General Margaret Chan acknowledged Yemen as pioneering in eradicating bilharzia in the Region.
Related link