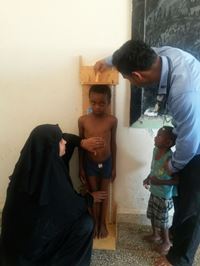 A child's growth is measured in one of the mobile clinics12 May 2015 - 19 out of Yemen's 22 governorates are now affected by violence and conflict. More than 300 000 people are estimated to have been newly displaced, while thousands of others are trapped by the fighting and unable to flee to safer areas.
There are an estimated 3600 internally displaced persons (IDPs) living in safe areas of Aden governorate, adding a serious burden on already impoverished areas such as Al-Buraika district, which has been receiving an influx of internally displaced persons every day since the conflict escalated. The district's 7 schools are currently overcrowded with hundreds of IDPs who fled the violence by boat or on foot. 
WHO is one of the few organizations that provides health services, medicines and water and sanitation supplies for IDPs in Al-Buraika. The Organization has distributed essential medicines, cleaning materials, water tanks and pipes to each school.
In cooperation with the Field Medication Foundation, a local nongovernmental organization, WHO has established mobile clinics in Al-Buraika to provide health, nutrition, water and sanitation, and referral services for the IDPs.
"The turnout to the mobile clinics is high and we're doing our best to cope with increasing number of IDPs who need urgent health interventions," said Dr Latifa Abbas, nutrition officer at WHO's sub-office of Aden. "We're making every effort to provide health services amid a serious lack of electricity, fuel and water."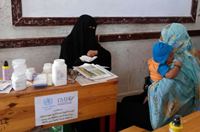 More than 60 children, men and women benefit from health services provided by the mobile clinics every day In terms of health staff, the clinics consist of 2 physicians, 2 nurses and a registration assistant. Cases of severe acute malnutrition and diarrheal diseases among children have been screened and treated. There are also 20 pregnant women in the schools who need special care, with 2 women requiring delivery with caesarian section.
"There are no means of transport, no ambulances and no fuel to refer urgent cases to the main hospital, especially complicated severe acute malnutrition cases who need to receive intensive care in a therapeutic feeding centre. We're also facing many challenges in transporting medical supplies to the area," said Dr Abbas, who adds that the members of the host community help transport urgent cases to the hospital with their own private cars.
Humanitarian partners estimate that almost 15.9 million people – or 61% of the population -- require some kind of humanitarian assistance in Yemen, of which more than 7.5 million people are estimated to be in need of health care services.
Related link