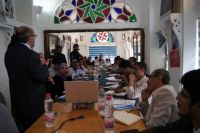 Sana'a, 2 April 2014 — On Tuesday the WHO country office organized a meeting with journalists to inform them about some of WHO's activities and detail its preparation and technical support to the Ministry of Public Health and Population for a national polio immunization campaign to begin on 7 April.
During the meeting, Dr Osama Mere, WHO Medical Officer, highlighted the situation of polio in Yemen, and warned of the dangers of polio spreading from countries in which the polio virus has recently been reported. "No one can prevent the virus from reaching any country. What we can do is immunize children against polio through frequent campaigns," he said.
Yemen has been a polio-free country since 2006. However, the Ministry of Public Health and Population and WHO Yemen are still stepping up efforts to protect the country against the threat of virus importation.
WHO's emergency intervention
In the same meeting, Engineer Abdul-Malek Mofadal, WHO Environmental Health Officer, highlighted WHO interventions in the field of emergency, maintenance and rehabilitation of health facilities in conflict-torn areas.
"We rehabilitated, equipped and furnished 43 health facilities in Yemen in 2013; 32 of them in Abyan, Aden and Lahj," said Mofadal.
"We are also planning to maintain and rehabilitate a number of health facilities in Sa'ada, Abyan, Lahj and Hajja (Haradh) in 2014. In addition, we are installing an oxygen station in Sa'ada."
Over the last few years, WHO has provided support to conflict-affected governorates with the aim of minimizing humanitarian suffering on the population in these areas and help mitigate its medium- to long-term impacts.