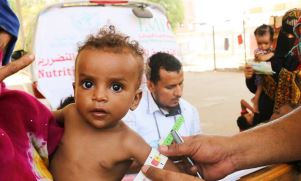 In Yemen more than 1 million children under the age of 5 are acutely malnourished and almost 2860 000 severly malnourishedSana'a, 31 August 2015— The World Health Organization (WHO) and Field Medical Foundation have set up mobile nutrition clinics to diagnose and treat children aged between 6 months and 5 years in Aden, Lahj and Hadramout governorates.
The clinics will operate for 5 months targeting around 23 000 children, as well as mothers and pregnant women who will receive consultation, health education services and essential medicines and vitamins.
"Nutrition services are currently essential given that thousands of children and women returning from areas of displacement were previously unable to access these services for months," said Dr Ahmed Shadoul, WHO Representative for Yemen.
"The number of acute malnutrition cases among children under the age of 5 are increasing; this calls for urgent interventions to increase ensure increased access of nutrition services so as to reduce morbidity and mortality associated with malnutrition," he added.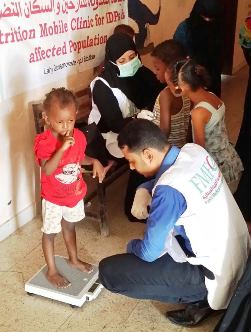 Returnee children in Aden receive nutrition services from WHO-supported mobile clinicsIn May 2015, WHO initiated outreach nutrition services through mobile clinics for internally displaced people in Al-Buraiqa district of Aden, 2 districts in Hodeidah (Al-Luhaia and Al-Zuhrah) and Hadramout to fill the huge gap in the provision of nutrition services.
"The clinics are greatly contributing to delivery of much-needed health services for those who cannot access health facilities," said Dr Al-Khedhr Laswar, the General Director of the Health Office of Aden.
Prior to the crisis, Yemen had the second highest rates of malnourishment globally as a result of emergencies, with more than 1 million children under the age of 5 acutely malnourished and almost 280 000 severely malnourished.
The ongoing conflict, disruption of health services and lack of safe water supply have worsened the general nutritional status of children and the population in Yemen.
Related links
Read the latest situation reports
For more information, please contact: 
Ms Pauline Ajello
Communications Officer
+962797140902
This e-mail address is being protected from spambots. You need JavaScript enabled to view it
Mr Sadeq Al-Wesabi
Communications Officer
+967 733096603
This e-mail address is being protected from spambots. You need JavaScript enabled to view it