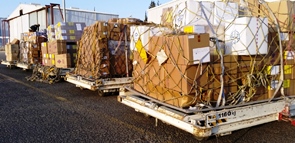 Most health facilities in Yemen face numerous shortages of essential medical suppliesSana'a, 8 October 2015— The World Health Organization (WHO) sent 15.7 tonnes of medicines and medical supplies to Sana'a on 6 October 2015. The shipment contains interagency emergency health kits and basic anti-malaria medicines for 40 000 people for approximately 3 months, as well as trauma kits and surgical supply kits sufficient to perform 2200 operations.
For more than 6 months, medicines and medical supplies have been running out rapidly in most functioning health facilities as needs for treatment are increasing amid shortages of medical supplies in the local market.
"There is an urgent growing need for kits and essential medicines in the country, this medical aid will support WHO, health partners and health authorities swiftly respond to these needs in face of the worsening situation in the country," said Dr Ahmed Shadoul, WHO Representative in Yemen.
Over the past 6 months, most health facilities in Yemen have faced numerous shortages of essential medical supplies as needs increase with limited sources for replenishing fast dwindling stocks. 
The health challenges in Yemen are compounded by a deteriorating humanitarian situation, lack of electricity and acute shortages of fuel in health facilities to run surgical interventions and other health services.
Since March, WHO has provided over 200 tonnes of kits, medicines and other medical supplies to various health facilities in conflict-compromised governorates for more than 1 million beneficiaries.
Sadly, the continued clashes and road blockades impede the delivery of health aid. WHO calls upon all parties to ensure that all medical aid is given safe passage so that it reaches those in need.
Related link