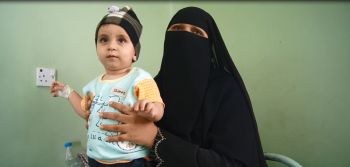 Eleven-month-old Saleh is about to be discharged after receiving six-day intensive health care in the centre27 January 2014 — The mother of eleven-month-old Saleh is delighted that her child is about to be discharged following six days of intensive health care in the therapeutic feeding centre in Al-Wehda Hospital in Aden. The centre has been fully rehabilitated and equipped by WHO.
"My child has changed completely," said the mother gladly, while cuddling her child. "They've provided us with counselling and all kinds of medical care."
In the next room, the mother of seven-month-old Ahmed sits beside her malnourished child and watches him worryingly while he receives treatment for a second day. She had been advised by friends to bring her child to the centre.
The therapeutic feeding centre in Aden was established in 2006 with only four beds for diarrhoea cases and another four beds for cases of malnutrition. In 2011, WHO developed the section and set new strict standards for admitting, discharging and following cases. The centre's capacity has been expanded with the support of WHO to 21 beds and two training rooms were added.
"Standards have been improved following WHO's intervention," said Dr Maha Abdul-Wahab, a pediatrician working at the centre. "The section is continuously developed to meet the highest standards." She added that the number of families bringing their sick children has increased after its rehabilitation. "We noticed that the society has started reacting more positively to bringing their children to receive treatment".
Well-known for its services that have contributed to increasing cure rates, the centre has been chosen by the nutrition department of the Ministry as an accredited centre to deliver training on malnutrition all over Yemen.
Yemen has high rates of malnutrition, with more than 40% of children under five years malnourished.
This year, the centre's administration will launch a WHO-supported intensive care unit as an essential additional to the centre. The centre has treated hundreds of children who were suffering from severe malnutrition. Its health services are not limited to children from Aden but other neighbouring governorates, such as Abyan, Lahj and Al-Dhalea, as well as including children of African refugees and internally-displaced person (IDPs) in treatment. The department has played a significant role in providing treatment for many children. The mortality rate among children decreased by less than 5%, according to Dr Latifa Abbas, nutrition field officer at WHO sub-office in Aden. "The turnout of the department increased once staff were trained and bed capacity increased," she added.
In addition to medical care, the department has also provided entertainment facilities for children and awareness raising sessions for mothers on breastfeeding and the risks of artificial infant feeding.
Currently, the department consists of 21 bed and 10 medics. Every month, it receives around 30 children.
All over Yemen, WHO has established 16 centres for the management of severe acute malnutrition cases in seven governorates. It is also planning to establish more nutrition stabilization centres in 2014.
This centre is considered as the only public centre in Aden and surrounding governorates that provides health care management for cases of malnutrition.