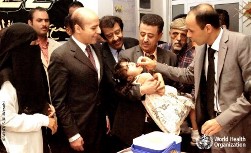 Sana'a, 12 November 2015—The Ministry of Public Health and Population, in cooperation with WHO and UNICEF, this week concluded the second round of the national polio immunization campaign targeting 4 551 174 children under the age of 5 in 17 governorates.
The four-day campaign has succeeded in reaching 92 per cent of the children targeted, with around 40 000 health workers in fixed and mobile teams taking part in the campaign. Imams of mosques and officials of local councils have mobilized support for the campaign, which was accompanied by an intensive health education and advocacy campaign.
The campaign targeted high-risk groups such as marginalized communities, internally displaced persons, refugees and Bedouins.
WHO provided US$ 3.3 million to cover the operational costs, including incentives for vaccinators and the cost of micro-planning and supervision.
"Despite huge security challenges, WHO is committed to supporting polio immunization campaigns and all activities of the expanded programme on immunization to maintain the polio-free status of Yemen," said Dr Ahmed Shadoul, WHO Representative in Yemen.
"We will continue to make every endeavour to reach the global goal of eradicating polio. This campaign is a step towards this long-term and crucial goal."
The ongoing armed conflict in Yemen poses a threat to the expanded programme on immunization in the country. WHO has supported the Ministry of Public Health and Population to keep polio vaccines safe through providing fuel and generators to enable vaccine storage as well as cold chain transferring them from war-torn areas to safer places.