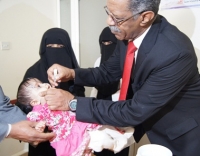 Dr Ahmed Shadoul, WHO Representative in Yemen, immunizes a child against polio during the launch of the national campaignSana'a, 11 August 2014— The Ministry of Public Health and Population, in cooperation with WHO, UNICEF and the World Bank on Monday launched a second round of the national immunization campaign against polio.
The three-day campaign targets around 4 884 000 children under the age of five all over the country.
"This campaign has been organized to meet the commitment of the government to keeping Yemen a polio-free country," said Dr Ahmed Qasem Al-Ansi, the Minister of Public Health and Population.
Al-Ansi also praised the role played by WHO and other international organizations in ensuring a successful campaign.
Dr Ahmed Shadoul, WHO Representative in Yemen, said that "Despite security, economic and geographical problems and challenges, Yemen has been a polio-free country since 2006 and this is a considerable achievement for the country,"
He added: "We will continue with supplementary immunization, in addition to strengthening routine immunization to maintain this accomplishment."
Dr Shadoul called for the community, media and local councils to cooperate with the immunization teams to facilitate their work.
More than 40 000 health workers in fixed and mobile teams will take part in the campaign. In addition, imams of mosques and officials of local councils are mobilizing support for the campaign.
Related link