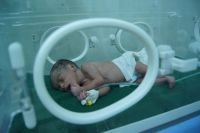 It is expected that many babies will benefit from the provision of four new incubators to the hospital30 March 2014 – WHO expanding support to Ibn Khaldoon Hospital in the Lahej Governorate has made significant contribution to upgrading the level of the health care services for the hospital, health officials say.
Receiving dozens of patients every day, Ibn Khaldon Hospital is considered the main hospital at governorate level and one of the main referral centres in the south. Through effective partnership between the health office in Lahej and WHO, the hospital has become one of the best performing health facilities in Yemen.
WHO rehabilitated and furnished the intensive care unit, and the emergency ward, providing them with advanced medical equipment, including four new incubators as part of priority needs of the hospital.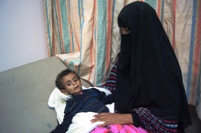 A young boy is treated at the Ibn Khaldoon hospital for malnourishmentIn addition, WHO rehabilitated and equipped the therapeutic feeding centre at the hospital and trained health staff on the management of children with severely acute malnutrition with medical complications.
"I brought my sick child to the centre with the expectation that they will give him quick check-up and few medicines," said the mother of three-year-old Nasr Allah as she was feeding him. "I didn't expect that my child would need intensive and inpatient care which was provided by the centre."
The hospital does not only deliver medical services to the malnourished but also offer continued training on dealing with serious cases of malnutrition. In a malnutrition-treatment training centre that is rehabilitated and furnished by WHO, 20 would-be medics were receiving training on how to provide medical care to malnourished children.
Officials in the hospital said that WHO support to the hospital has made it possible for them to admit more cases as previously they had to refer many of these cases to other health facilities.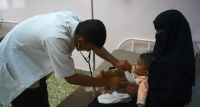 A doctor examines a young child at the hospital"We used to send many of these cases to other health facilities due to lack of health equipment," said Fadhl Nasr, head of Nursing Department at the hospital. "WHO has provided us with necessary equipment and furniture that allowed us dealing with increasing demands for the hospital care."
During a recent visit of Dr Mohammad Dauod Altaf, WHO Emergency Humanitarian Action Coordinator in Yemen, the governor of Lahej Ahmed Al-Majeedi highly appreciated WHO's "valuable contribution" to health sector strengthening allowing improved access to essential health care services for the people of Lahj and surrounding areas.
In 2014, the WHO is planning to provide high capacity power generator to Ibn Khaldoon hospital to ensure continued availability of electricity that the outages may disrupt the continuity of life-saving services at critical sections of the hospital.