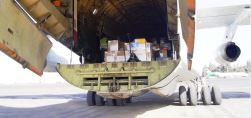 Sana'a, 8 November 2015 — 2 WHO chartered planes have arrived in Sana'a, carrying more than 76 tonnes of medicines and medical supplies as part of the response to cyclone Chapala and the ongoing conflict in Yemen.
The planes, which arrived last week, contain interagency emergency health kits and basic malaria medicines sufficient for 70 000 people for approximately 3 months, trauma kits for 6400 patients requiring surgical care and diarrhoeal diseases kits for more than 100 000 cases.
"The cyclone that made landfall in Yemen caused tremendous damage to households leaving hundreds of people exposed to unfavorable health conditions, including flooding and injuries which required medical support," said Dr Ahmed Shadoul, WHO Representative in Yemen.
"In addition to the ongoing crisis, the needs have become enormous, this medical aid is therefore timely and will enhance the health authorities' ability to respond to both emergencies."
Cyclone Chapala impacts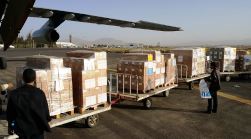 Since cyclone Chapala made landfall in Yemen on 3 November, 8 people have died, including 2 children, and over 60 have been injured in the areas affected by the cyclone. Over 44 000 people have also been displaced as a result of damage to property, crops, health facilities, ambulances and power supply lines in Socotra, Shabwah and Hadramaut governorates.
To ensure 24-hour emergency health service delivery, WHO and health partners have supported 8 hospitals in Hadramout and Mukalla with essential medicines and fuel needed to keep them functioning. Of these 4 hospitals are in Mukalla (2 public and 2 private) and 4 are in rural areas.
To minimize disease outbreaks in the affected areas, WHO is supporting health authorities to strengthen the disease surveillance system through intensified monitoring and reactivating the rapid response teams in the coastal areas of Mukalla, Al-Mahra, Shabwa, Socotra, Abyan, Hodeida and Aden.
With flooding, WHO and partners are concerned about the increased risk in vector-borne diseases, like dengue fever, malaria and chikungunya and waterborne and diarrhoeal diseases.
Related links
WHO responds to cyclone Chapala in Yemen, 6 November 2015
Read the latest situation reports on the health situation in Yemen