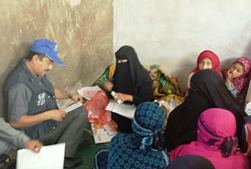 WHO health teams reach remote areas which need urgent health interventionsSana'a, 13 September 2015 — A second round of integrated outreach activities was launched in remote and rural areas in Yemen on 12 September 2015. This round immunized around 358 681 children under the age of 1 and provided vulnerable remote communities with reproductive health and nutrition services, and treatment for common conditions, such as blood pressure and the common cold.
The 6-day activity, supported by WHO, GAVI (the Vaccine Alliance) and UNICEF, is covering 95% of districts of all 23 governorates, with around 1982 mobile medical teams and 5964 health workers participating in the activity. WHO is providing support at a cost of more than US$ 500 000; 41% of the total cost.
"Even prior to the crisis, remote and rural areas in Yemen were suffering from limited access to basic health services, and the situation has been further exacerbated since the crisis started," said Dr Ahmed Shadoul, WHO Representative for Yemen.
"These activities are essential to provide vulnerable children in impoverished areas with basic health services. Our health teams have confronted many difficulties in reaching these areas which really are in need of urgent health interventions."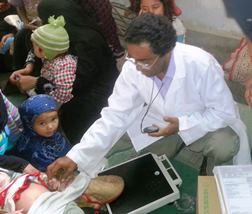 Many lives have been saved through integrated outreach activitiesThe activities come only a few weeks after a national immunization campaign ended, in which more than 4.4 million children under 5 years were vaccinated against polio and around 1.5 million children aged 6 months to 15 years were vaccinated against measles.
Despite the difficulties in accessing remote areas, WHO and health partners have managed to resume implementation of outreach activities which has improved morbidity and mortality among vulnerable communities, especially children and women in remote areas. The lives of many people have been protected against disease through integrated outreach activities, particularly from diarrhoea, acute respiratory infection and measles.
Related link