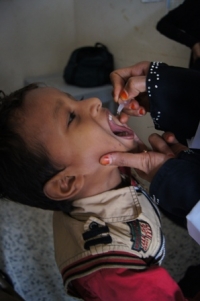 A young Yemeni boy receives a dose of oral polio vaccine.There is no cure for polio, it can only be prevented. Polio vaccine, given multiple times, can protect a child for life. Under a hot son, two vaccinators on motorbikes in the district of Bait Al-Faqih in the Hodeida governorate, west of Sana'a, vaccinate children against polio as part of a recent immunization campaign. They carry a vaccine portable fridge on their bikes. A few kilometres away, two female vaccinators walk door to door to vaccinate more children.
Up to 58 000 children under 5 have been targeted in the recent campaign, a huge number in comparison to other districts. About 560 immunization workers and 58 supervisors work enthusiastically in Bait Al-Faqih, the largest district in Hodeida with a population of about 250 000.
For three days, they had been working with steely determination to fight not only polio but other diseases.
At the health office, Dr Mohammed Osama Mere, deputy WHO Representative for Yemen, checks documents, annual reports, vaccine stores and records, as he praises the immunization team for their proficiency in management, planning and organization. "I am not exaggerating to say that this team is one of the best in the Region and the sucess of this campaign is down to them despite all the challenges they face.
By the third day of the campaign, the health office of Bait Al-Faqih is crammed with families bringing their children to be vaccinated, including several newborn infants. Two female vaccinators have been working here without rest. They receive the visitors, record their information, offer advice and vaccinate an increasing number of children, in addition to providing other health services. "More and more people are bringing their children for vaccination as people's awareness of the importance of vaccination increases," said Hayat Khamjan, a medic at the centre.
Bait Al-Faqih is one of the most impoverished areas in Yemen. Its locals depend for their living on farming, livestock feeding and fishing. Ibriahim Roz, the supervisor of immunization programme in Bait Al-Faqih said that, "The health staff here have a deep belief in the significance of immunization and they work hard with limited resources to advance the health sector in the district".
Related link