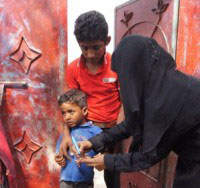 Polio campaign workers mark the hands of children to show they are immunizedIn recent three-day national immunization campaign, Safiya Dobab and Fatima Shuaib, female villagers in their early twenties, vaccinated about 340 children under the age of five in 285 houses scattered in poverty-stricken Al-Zaidia district of Hodeida governorate.
Both women were making a eight-hour walk every day going from house to house, enduring sizzling heat and dusty roads.
Hodeida is considered as a high risk point of entry for potential imported poliovirus. The likelihood of contracting the poliovirus is high due to the influx of people from the Horn of Africa to the coastal governorate.
To maintain Yemen's status as a polio-free country since 2006, the Ministry of Public Health and Population and WHO Yemen are maximizing efforts in Hodeida to protect it from the threat of virus importation.
Dr Abdul-Rahman Jar Allah, Director-General of the governorate health office, praised the role WHO has played in Hodeida.
"With full support from WHO, the governorate carried out all the activities and measures to minimize the potential for importation of polio. It has given Hodeida special attention and this increased our responsibility towards preventing the poliovirus from returning," said Jar Allah. "The mutual partnership between governorate health office and WHO has enabled us to overcome several challenges related to the immunization programme."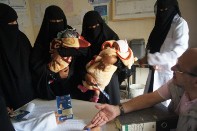 A health worker reviews the immunization records of Yemeni infantsIn 2013, WHO Yemen intensified its surveillance and campaigns in the governorate, which conducted five round polio campaigns and five phases outreach activities in remote areas.
During recent polio campaigns, special vaccination teams were posted in crowded markets, military checkpoints, governorate entrances, bus stations and the airport.
"The technical support provided by the WHO to Hodeida resulted in significant improvement in the immunization activities in the governorate," said Dr Osama Mere, Medical Officer for WHO Yemen.
Al-Qanawes, one of Hodeida's districts, is considered one of the best cities in delivering immunization activities, according to an evaluation by WHO experts who visited the area in the middle of the last year.
Abdul-Fattah Al-Qubati, supervisor of the national immunization programme in Hodeida, attributed the success achieved to the health workers and their tireless efforts during polio campaigns.
Despite the difficult security and economic situation in Yemen in recent years, the Ministry of Public Health and Population, WHO and other partners have been able to carry out successful immunization campaigns and achieve satisfactory coverage rates.
Yemen is planning to launch a new national immunization campaign at the end of March targeting more than 4.7 million children under the age of five all across the country.