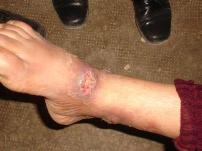 Leishmaniasis is a major public health problem in the Eastern Mediterranean Region where cutaneous and visceral leishmaniasis are both endemic18 October 2012 – Leprosy, leishmaniasis, onchocerciasis and lymphatic filariasis are known, but neglected, diseases in Yemen. They are neglected due to their low mortality rate and lack of resources. These factors lead to problems in reaching large numbers of people and the consequences of long-term infection vary, but include disfiguring scars and ulcers, severe pain, limb deformities and damage to internal organs.
There is also a lack of information about the diseases, vectors, parasites and methods of transmission which also increases morbidity.
Self-reporting of leprosy patients in the early stages of the disease is low with an average of 20% quoted in the annual report of the national leprosy elimination programme. This is again due to low awareness and lack of information. The difficulty in implementing mass drug administration for lymphatic filariasis and onchocerciasis is another problem which also needs health education.
WHO has provided financial and technical support in cooperation with Die Deutsche Lepra- und Tuberkulosehilfe and Yemen Leprosy and Tuberculosis Society to develop educational materials (leaflets, posters, television commercials) to raise awareness in endemic areas about the early signs and symptoms of leprosy, leishmaniasis, lymphatic filariasis and onchocerciasis and to improve community education and increase awareness of health-seeking behaviour and vector avoidance.
Related links
Die Deutsche Lepra- und Tuberkulosehilfe