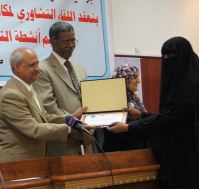 Minister of Public Health and Population Dr Ahmed Qasem Al-Ansi and WHO Representative Dr Ahmed Shadoul honour the highest performing vaccinators in YemenSana'a, 17 July 2014 — A three-day consultative meeting on evaluating and reviewing immunization activities concluded in Yemen on 17 July 2014. It was attended by the general directors of health offices and immunization supervisors from all over the country.
The meeting, which was organized by the Ministry of Public Health and Population, WHO and UNICEF, discussed challenges and problems that face immunization programmes. On the last day of the meeting, the most dedicated health offices and vaccinators during 2013 were honoured for their work and contributions to public health.
"Despite all challenges, Yemen is considered as one of the countries with the highest level of commitment in the field of immunization and could provide new vaccines that are not obtainable in other countries," said Dr Ahmed Shadoul, WHO Representative in Yemen.
He stressed the importance of focusing vaccination efforts on high-risk groups, such as internally displaced persons, marginalized communities and those who refuse to vaccinate their children.
Minister of Public Health and Population Dr Ahmed Qasem Al-Ansi emphasized the significance of activating observation on health facilities and organizations that work in the field of health.
Yemen will launch a national polio immunization campaign on 11 August 2014 announced Dr Majed Al-Junaid, Deputy Minister of Health for Primary Health Care.
Related link
Global immunization coverage reaches 84%, still short of 90% goal