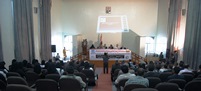 The training was attended by dozens of dentists, health officials and medical experts26 February 2015 –The National Programme for Oral Health at the Ministry of Public Health and Population in Yemen, in cooperation with the WHO country office, concluded on Thursday 26 February 2015 a 3-day training on how to deal with noncommunicable disease patients in private and public dental clinics.
The training, which was held in Al-Jumhori Hospital in Sana'a, was attended by dentists, health officials and medical experts.
Dr Ghazi Ismail, Deputy Minister of Public Health and Population for Curative Medicine, stressed the importance of devoting attention to oral health. "Unfortunately, there are a lot of bad habits that harm oral health in our society," he said. "We need greater possibilities to strengthen oral health-related programmes."
Dr Mona Al-Mudhwahi, WHO Programme and Health Systems Officer, reaffirmed WHO's support to oral health activities and programmes. "It's vital to have such meetings and sessions to improve the situation of oral health," she said. "The responsibility should be shared by all to overcome different health problems, including oral health."
During the training, health experts and academics delivered lectures on relationship between oral health and noncommunicable diseases and metabolic syndrome in oral cavity.
Related links