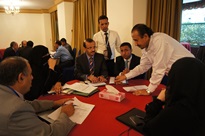 Participants of the workshop were distributed into different groups with specific components. They adopted recommendations to boost the efforts of child injury preventionSana'a, 8 December 2014 — The Ministry of Public Health and Population, in cooperation with the WHO country office in Yemen, concluded on Monday a 2-day workshop on preparing an action plan for child injury prevention.
The workshop was attended by officials from the Ministries of Public Health and Population, Information, Transportation, Interior, Human Rights and Education as well as nongovernmental organizations, academics and experts in the field of child health.
"This workshop is significant for the future of children," said Ali Sariya, the emergency manager at the Ministry of Public Health and Population. "Children in Yemen are the most vulnerable to different types of injuries including violence against them."
The attendant adopted several recommendations including forming a multisectoral technical committee to formulate the detailed plan for child injury prevention, review and update related legislation and activate the role of media and NGOs in supporting and advocating the issues of child injury prevention.
Dr Mona Al-Mudhwahi, Programme and health systems officer at WHO Yemen, said that child injury is one of the challenges that face health sector in Yemen.
"It's possible to control child injury in Yemen through health education, enacting required laws and boosting the relations with other concerned partners," she said.
In Yemen, the accidents of traffic, burning, falling and drowning as well as violence against children represent main causes of death among children.
"Such injuries could be sharply reduced," said Dr Najeeb Al-Qubati who works as a pediatrician. "However, this needs collective cooperation and coordination."