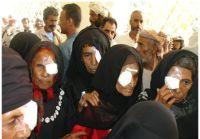 80% of blindness is avoidable28 July 2012 – In 2009, WHO conducted a rapid assessment of avoidable blindness survey in the two governorates of Amran and Lahj in Yemen. Survey results indicated that about 9% of the population over the age of 50 suffered from severe impaired vision or blindness, mainly due to cataract.
Outreach programmes for cataract surgeries is the only way to reduce this huge incidence of blindness in Yemen. There are a large number of people who require surgery for cataract and yet the cost of the surgery is only US$ 50. In response to this problem, WHO in collaboration with other partners, is supporting the Ministry of Public Health to conduct 2000 cataract surgeries in Turbah in the Taiz governorate. This support will be extended further to the governorates of Abyan, Haja, Amran and Hodeida. 
The aim is to gradually reach each and every governorate in Yemen. The estimated cost of achieving this target is about US$ 200 000. The generous support of donors will help achieve this goal. It is important that partners work together under the slogan "Gift of sight", to reduce avoidable blindness in Yemen.
Related links
Regional control and prevention of blindness programme