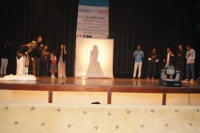 21 November 2013 — The National Safe Motherhood Alliance and Sarkhat Shabab, a local Yemeni youth group, held a WHO-sponsored activity in Sana'a advocating the outputs of the National Dialogue Conference regarding safe motherhood. The celebration, held under the slogan "Together for Safe Motherhood", was attended by hundreds of youth activists, nongovernmental organizations, artists and children.
During the celebration, safe motherhood-related poems were recited and a short film about early marriage was screened. The celebration ended with an operetta about the risks associated with early marriage, entitled "Don't stop the sun light."
Over the last two years, WHO in Yemen has supported safe motherhood programmes through the adoption of a plan to reduce maternal and child mortality.
An exhibition of photographs was organized by Sarkhat Shabab and different youth initiatives. Brochures, pamphlets and posters highlighting safe motherhood issues were also displayed and distributed.
Dr Asma'a Al-Sharai, Head of the National Safe Motherhood Alliance, emphasized the importance of mobilizing society to support the issue of safe motherhood. "Despite considerable efforts to enhance safe motherhood, the maternal mortality rate is still high in comparison with other Arab countries."
The maternal mortality rate in Yemen is one of the highest in the world with 365 maternal deaths per 100 000 live births (2003, Family Health Survey). According to the UN Population Fund, maternal mortality is related to poverty, inadequate access to health care services and low awareness and knowledge about reproductive rights.