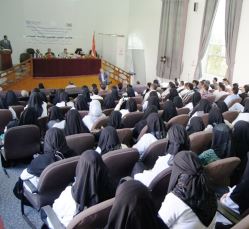 Sana'a, 8 May 2016 — The Quality Management and Patient Safety Department at the Ministry of Public Health and Population, in cooperation with WHO, organized on 8 May a scientific symposium on hand hygiene and patient care safety. More than 100 surgeons, public health doctors, and nursing staff from different public hospitals attended the event which took place at the Jumhoori hospital.
The purpose was to highlight the importance of maintaining WHO standards of hand hygiene in health care, despite difficult circumstances in Yemen, and promote proper hand hygiene practices.
In the Eastern Mediterranean Region, the prevalence of health care-associated infections in several countries is reported to vary from 12% to 18%. These infections can be prevented by health workers following standard hand hygiene practices. Adequate hand hygiene in surgical sites can reduce the prevalence of health care-associated infections. 8 million lives can be saved worldwide every year in hospitals alone by halting surgical site infections and other health care-associated infections. 
Dr Ahmed Ali Qaid, the Pandemic and Epidemic Diseases Officer for WHO Yemen, delivered a presentation on the role of hand hygiene in preventing transmission of infectious diseases the significance of hand hygiene. "Hand hygiene is a crucial step in preventing patient infections. It reduces avoidable stress on health systems, and prevents unnecessary pain and suffering of patients," said Dr Qaid. 
WHO has undertaken a number of global and regional initiatives to address patient safety. Much of this work has stemmed from the WHO Second Global Patient Safety challenge named "Safe Surgery Saves Lives".
Related link