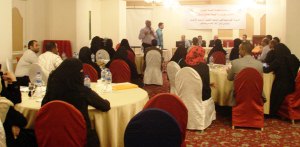 Sana'a, 30 May 2015 – WHO and the Ministry of Public Health and Population have concluded the third workshop on mental health and psychosocial support during crises. The workshop targeted 30 health and community workers from the mental health directorate, primary health centres and staff working for international and national nongovernmental organizations and community-based organizations from Sana'a, Hajjah, Hadramout and Aden governorates.
The training aimed at helping primary and mental health care workers to better address the increased mental health stress among people in Yemen, following more than a year of conflict. In addition, UNICEF participated in the training by delivering a presentation on child protection during emergencies. 
"Since the escalation of conflict in Yemen last year, WHO has been working closely with the Ministry of Public Health and Population to ensure that mental health is an integrated part of primary health care. As one can easily imagine, many Yemenis are now struggling with psychosocial trauma," said Dr Ahmed Shadoul, WHO Representative in Yemen. "We continue to help health personnel to be able to respond to this additional need that the conflict has caused on patients."
Scores of people in Yemen are plagued by mental health disturbances, but have very limited access to mental health services. The much needed interventions to support this important component of health care and survival is often neglected and considered less urgent during humanitarian crises.
Previously, WHO conducted 2 workshops on psychosocial support as part of a plan to train 200 health and community workers from all governorates on how to better provide mental health and psychosocial support.
Related link