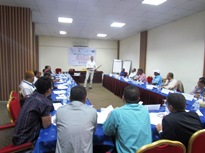 The Ministry of Public Health and Population, with the support of WHO, held the second and third workshop on Yemen's Health Leadership Programme from 15 to 20 November 2014 in Aden. The first workshop was held in September 2013. The programme aims to strengthen public health leadership skills and capabilities, as well as developing the decision-making and problem-solving capabilities of national staff of the Ministry of Public Health and Population.
Dr Reyad Yassin, Minister of Public Health and Population, said that the workshop was important in building leadership skills and potential and expressed his support of the programme to help address problems facing the health sector. Dr Ahmed Shadoul, WHO Representative in Yemen, stressed the importance of improving health services and training the health workforce. "This programme is essential to upgrade the capabilities of health staff and leaders," said Dr Shadoul. 
The workshops sought to cover a range of competencies, such as organizational dynamics and change management; team-building, negotiation and conflict resolution; and system-wide thinking and problem-solving for health system strengthening.