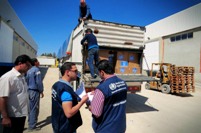 WHO delivers critical medicines and medical supplies to the coastal city of Lattakia. Photo credit: WHO\SyriaLattakia, Syria, 30 March 2014 – The World Health Organization (WHO) is responding to the emerging health needs in Lattakia governorate by supporting local health authorities with critical medicines and medical supplies. 
A shipment of 20 metric tonnes of life-saving medicines, intravenous fluids and surgical supplies to support more than 57 700 people reached the governorate on Friday 28 March 2014. 
"WHO is committed to reaching all people in need across the country," said Elizabeth Hoff, WHO representative to Syria. "Our immediate response to the health needs is strongly supported by local health authorities and NGO partners," she added. 
This crucial delivery was prompted by the upsurge in fighting in north-western Syria, particularly in rural Lattakia. Hundreds of families –mostly Syrian-Armenian- fled the fighting and arrived in Lattakia city from Kasab and surrounding villages. 
With a host population comprising 1.2 million inhabitants and more than 1 million internally-displaced person (IDPs), the health system in the governorate is heavily overburdened. 
Through agency-specific deliveries and as part of UN joint convoys, WHO has been able to support eleven of the most affected governorates across the country, most of which host large number of IDPs, since January 2014. 
Earlier in March, WHO supported NGO partners in Ar-Raqqah and Deir ez-Zor governorates with medicines for approximately 300 000 people. 
WHO continues to scale up its efforts to provide and distribute medical supplies and equipment to people in need across Syria through local health authorities, the Syrian Arab Red Crescent (SARC) and partners nongovernmental organizations. Since the beginning of 2014, WHO has supported more than 2.4 million persons in government- and opposition-controlled areas across Syria.
For more information, please contact:
Rana Sidani
Senior Communication Officer
Media and Communication Unit
WHO Regional Office for the Eastern Mediterranean
Direct: +20 2 22765552
Mobile: +20 1099756506
E-mail:  This e-mail address is being protected from spambots. You need JavaScript enabled to view it
Karim Shukr
Media and Communications Officer
WHO Country Office - Syria
Direct: +963 11 3315053
E-mail:  This e-mail address is being protected from spambots. You need JavaScript enabled to view it