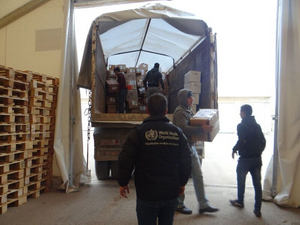 Shipment of emergency medical supplies to Syria8 January 2019 — WHO has airlifted 20 tons of medical supplies and equipment to Al-Qamishli in Al-Hasakeh governorate.
WHO staff in Al-Qamishli are distributing the supplies to health partners in the north-eastern governorates of Al-Hasakeh, Deir-ez-Zor and Ar-Raqqa. The supplies, including antibiotics, anaesthetics, surgical supplies, IV fluids, trauma kits and medicines to treat noncommunicable diseases and common illnesses, are sufficient for 110 000 medical treatments. The shipment also included electrocardiography and haemodialysis machines, ventilators and incubators.
The shipment comes after health care services in north east Syria have been badly disrupted by the intense hostilities, hundreds of thousands of internally displaced people are in desperate need of health care and other basic services, and the widespread distribution of explosive remnants has led to a rise in the number of victims of explosions requiring emergency surgery.
"WHO is committed to supplying its health partners with life-saving medicines and medical equipment to improve the health outcomes for millions of vulnerable Syrians, especially in the governorates that have been most affected by the conflict," said Elizabeth Hoff, WHO Representative in Syria.
"WHO works closely with its partners throughout Syria to deliver supplies, support primary health care centres and strengthen hospitals to help ensure that displaced people and other vulnerable groups have access to vital health care services."