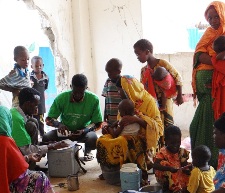 From 24 to 30 April 2014, Somalia is celebrating World Immunization Week 2014, marked in more than 180 countries around the world. Under the theme "Are you up-to-date?" the week-long campaign aims to raise public awareness on the importance of immunization. This year's slogan "Immunize for a healthy future: Know, Check, Protect" encourages everyone to know more about the available vaccines, to check if they have received all the recommended vaccines, and to be protected by being vaccinated.
The launch of World Vaccination Week took place on 24 April 2014 in Mogadishu, and was attended by government leaders and representatives from UNICEF, WHO and nongovernmental organizations.
Speaking at the launch, Ridwan Hirsi Mohamed, Deputy Prime Minister of the Somali Federal Government, said: "The Islamic religion recommends protecting yourself and your family. I therefore urge all Somalis to vaccinate their children to prepare them for a bright future." During World Immunization Week, health authorities are conducting an outreach campaign to make parents aware of the importance of immunization, and holding discussions on policy of the Expanded Programme on Immunization.
In Somalia, the vulnerability of the Somali population to vaccine-preventable diseases, such as measles and polio, remains very high. Reported immunization coverage has been historically low, particularly in large areas of central and southern Somalia where mass vaccination activities could not be conducted since 2009. In 2013, 194 people were affected by polio and 3100 cases of suspected measles were reported. Measles, which remains one of the leading causes of death among children, is highly under-reported in Somalia.
"Increasing routine immunization is fundamental to avert preventable disease among children," said Dr Ghulam Popal, Representative of the World Health Organization (WHO) in Somalia. "Control of vaccine-preventable diseases is one of WHO's priorities areas of support in Somalia for 2014–2015 and beyond."
The introduction in Somalia of a new five-in-one vaccine (Pentavalent) in 2013 was an important milestone to reduce the burden of diseases that can be prevented with vaccination. Pentavalent protects children against several potentially fatal childhood disease, including: diphtheria, tetanus, whooping cough, hepatitis B and Haemophilus influenzae type B, the bacteria that can cause meningitis and pneumonia.
WHO, UNICEF and partners continue to support the Somali health authorities in their effort to increase immunization coverage. Polio vaccination campaigns continue to be conducted, targeting on average 2 million children under-five every month. After several emergency vaccination campaigns, no polio case was reported in Somalia in 2014. In addition, more than 1.5 million children were targeted with vaccination against measles and polio, as well as with routine immunization vaccines during the Child Health Days campaign conducted between December 2013 and March 2014. Almost 1.7 million women of childbearing age were also targeted with tetanus toxoid vaccination. Technical support is also provided to develop an EPI policy and implement a nation-wide plan to increasing immunization coverage.
In 2014 WHO and UNICEF need US$ 16 million to conduct two rounds of Child Health Days and vaccinate 1.5 million children per round. This amount will support the ongoing efforts and save thousands of Somali children from death and disability.