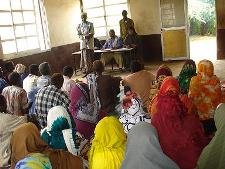 WHO is revitalizing community-based initiatives programme in Somalia. Photo: WHO.The Basic Development Needs (BDN) programme is a community-based initiative aiming at health for all and a better quality of life for communities. The programme is based on full community involvement and promotes self-reliance through self-management and self-financing by communities. It was initiated in Somalia in 1988.
Three model villages have been identified as demonstration sites in Somalia. More than 300 community representatives, including village development committees, have been trained on family health, environmental health, food safety, communicable and noncommunicable diseases, and emergency preparedness, response and recovery. Community information centres are being set up in each village, creating linkages to the nearest health facility and supporting the integration of different health-related priority programmes.
In response to the current famine in parts of south and central Somalia, programme partners are being trained in integrated community case management of diseases affecting children under five to decrease childhood morbidity and mortality. This involves community-based treatment of diarrhoea, confirmed malaria, fast breathing and identification of signs of severe and moderate malnutrition, in areas without access to basic health services.
The BDN programme takes a holistic approach to achieving the Millennium Development Goals, focusing on rural and nomad communities and integrating WHO activities at grassroots level. It supports intersectoral collaboration between health, education, agriculture and other sectors.