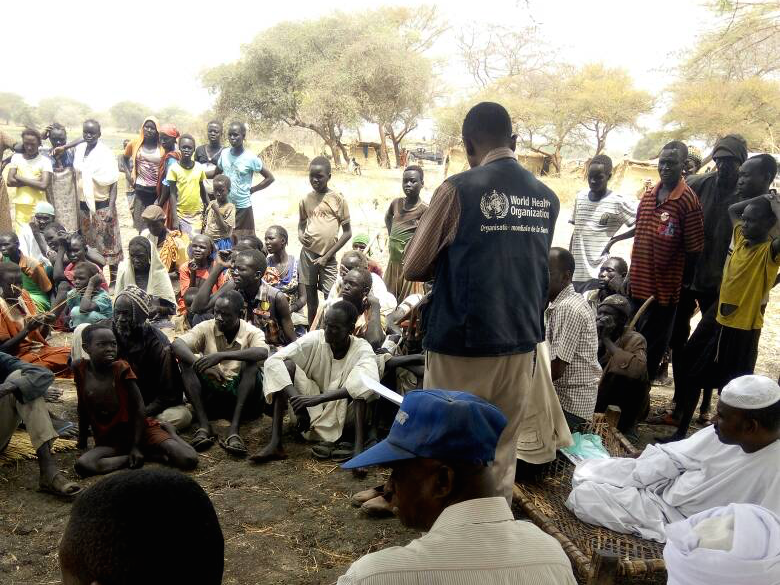 WHO staff in South Darfur fight AWD with the help of local communities (Photo: Afeef Mohamed Ali/WHO Sudan)
24 September 2017 – With Sudan's rainy season underway, the risk of AWD spreading more quickly has increased. Potential risk factors include increasing breeding sites for insects, decreasing quality of water and sanitation facilities, and the possibility of worsening faecal and food hygiene.
In South and Central Darfur, the past few weeks have seen some of the highest weekly numbers of new reported AWD cases and deaths, despite Sudan's Health Ministry, WHO and partners' ongoing strenuous efforts to stem the outbreak.
To offset these increasing risks and caseloads, WHO and has been implementing a comprehensive strategy since the beginning of the season to increase AWD preparedness and response, in support of Sudan's Health Ministry and in close collaboration with health partners. The plan includes key measures in 6 areas: health capacity building, case management, medicine and medical supplies, water quality control, vector control, and hygiene promotion.
In South and Central Darfur, the ramp up in activities has included continued support to State Ministries of Health (SMoHs) and health partners with medicine, medical supplies, assorted medicines and IV fluids, training of medical staff on AWD case management, opening of additional Cholera Treatment Centers (CTCs), treatment of breeding sites to increase vector control, and distribution of information materials to promote healthy behaviors including food and faecal hygiene.
In South Darfur's recently accessible locality of East Jebel Marra, a 10 September joint FMoH/WHO mission led by Sudan's Health Minister, Bahr Idriss Abu Garda, identified urgent response gaps, including with regards to medicine and medical supplies, emergency health staff training, and logistics.
This urgent health need persists despite the recent opening of an additional 3 CTCs in Liba, Deribat and Fiena, openings which responded to the increased case management need caused by rainfall and road blockages making referral to Nyala health faciliities problematic. Immediate required interventions have been budgeted at US$ 400,000.
WHO, Sudan's Health Ministry and all health partners continue to seek additional support from donors to scale up the ongoing response efforts and bring the AWD outbreak under control as soon as possible, aiming to achieve zero cases in all states for at least three weeks in a row.