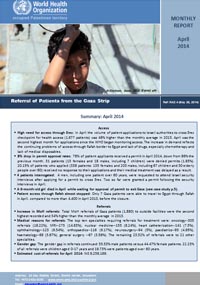 26 May 2014, Jerusalem – WHO has published its April 2014 monthly report on referral of patients from the Gaza Strip. Access to health services is a fundamental element of the right to health and obstacles to this right can compromise health status. International humanitarian law and human rights law both uphold the right to health as a basic human right, and particularly call for states to protect, respect and fulfil the right to access health care, especially during situations of conflict.
This report is directed to all duty bearers: United Nations agencies, humanitarian organizations, the international community, international nongovernmental organizations, the Ministry of Health and other concerned authorities.
The WHO occupied Palestinian territory office has been monitoring referrals of patients and access to health care outside the Gaza Strip since 2006, as well as annual data for both the West Bank and Gaza Strip. Data on referrals, permits and crossings are analysed and a monthly report is produced to show the status of access to health care. The report shows monitoring data on referrals, permit procedures and humanitarian access out of Gaza Strip via the two crossings at the Erez checkpoint and Rafah border.
Annual RAD report 2011 and 2012