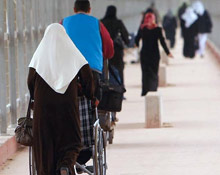 July 14, 2011 - WHO in the occupied Palestinian territories today published a 32-page report entitled Referral of patients from Gaza about access to health care for patients from the Gaza Strip who are referred for medical treatment through the Israeli-controlled Erez checkpoint and the Egyptian-controlled Rafah crossing.
The majority of these referrals are for specialized diagnosis and treatment services for cardiovascular diseases, oncology, ophthalmology, orthopaedics or neurosurgery – services which are not available in the Gaza Strip. The report examines the lack of development of these specialties in the Gaza Strip and the range of problems affecting the quality of patient care due to the blockade.
The public health system has deteriorated due to restrictions on the movement of people and goods, which are essential for training of health staff, import and maintenance of medical equipment, continuous professional education and construction and improvement of health facilities.
The report summarizes data from monthly reports published in 2010 by WHO country office on the occupied Palestinian territory. 12 483 patients were referred by the Referral Abroad Department of the Ministry of Health for treatment or surgery to health facilities outside of the Gaza Strip. Of these, 7640 patients required access through the Erez checkpoint to hospitals in the West Bank, including Jerusalem, Israel or Jordan. Almost half of the referrals were to the six Palestinian hospitals in East Jerusalem, the main referral hospitals for Palestinians for ophthalmic surgery, chemotherapy for cancer patients, and orthopaedic procedures. The remaining 4843 (39%) patients were referred to facilities in Egypt, which require coordination with Egyptian authorities for access through the Rafah border crossing.
The Palestinian Liaison Office submitted 11 176 applications to the Israel Liaison Office for permits for patients to cross Erez for access to scheduled appointments for medical care in 2010. The overall approval rate of permit applications was 82%, highest for children (94%) and lowest for adults aged 18–40 (57%). A total of 646 patient applications for permits were denied in 2010 (6%). Ministry of Health referrals accounted for about 85% of permit applications while the remaining 15% were for patients supported by nongovernmental organizations or charities, or who were self-funded. 35% of applications were for medical care for children.
Related links
WHO report referral of patients from the Gaza Strip: data and commentary for 2010 [pdf 1.4Mb]