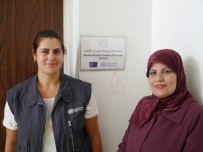 Tagreed (right) is a founding member of Mental Health Family and Friends Society10 September 2014 – A lady in a crimson hijab smiles as she pours hot Turkish coffee into painted porcelain cups. 
"Shukran, Tagreed" I say, taking a cup and a seat in the small office room. I'm at the Mental Health Family and Friends Society (MHFFS) office in Ramallah with a colleague to meet the team and discuss upcoming WHO capacity training.
Tagreed, 47, is one of the founding members of MHFFS – an independent, not-for-profit, volunteer based organization dedicated to advocating for the rights of people with mental illnesses in the West Bank and providing rehabilitation and social support to patients, their families and friends. 
Tagreed's husband, a 57-year-old chronic schizophrenic, is the reason she is here.
While accompanying her husband to a community mental health centre in Ramallah in 2008, she was invited to join and help coordinate a local support network for the families and caregivers of mental health patients.
Starting small, Tagreed and her colleagues began by holding focus discussions on mental health issues and social functions such as afternoon teas, iftars and musical events. The society has since expanded its operations and grown, with branches now in Ramallah, Hebron, Bethlehem, Nablus and Jericho.
While the prevalence and symptoms of mental illness can be exacerbated by exposure to conflict, separation from families, and other pressures of life in the occupied Palestinian territory (oPt), WHO surveys have found that even in societies not affected by conflict or crises, two to three percent of the population suffers from severe mental disorder, while around 10 percent suffers from mild or moderate mental disorder. And in the oPt, as in many other places, there is a great deal of stigma attached to mental illness.
"The stigma that comes with these conditions is something we are trying very hard to combat," Tagreed says. "Reducing stigma in society can lead to a change in public perceptions of mental illnesses and help patients live with dignity."
To reduce stigma, MHFFS runs awareness-raising campaigns in villages and municipalities. MHFFS volunteers educate communities about mental health issues, the symptoms of sufferers and the challenges of living with mental illnesses such as depression, anxiety and schizophrenia. The group also uses local radio to broadcast anti-stigma messages and engages the support of imams to help change community perceptions and disseminate materials on mental health.
Reintegration of mental health patients into society is another core focus of the group. MHFSS works with employers to help them understand the nature of patients' conditions and their capacities. It also provides skills training to better equip patients for the workforce. MHFFS supports patient families by providing them with a forum to come together and share their experiences, and advice on patient care. 
"We want people with mental illnesses to feel as if they can meaningfully contribute to society – feel that they are visible, legitimate and valued members of their communities," explains WHO Mental Health Officer Rajiah Abu Swai. 
"At the same time, we are there to support family members and friends who sacrifice a great deal to provide care for their loved ones," Tagreed adds.
Mental health is one of WHO's chief programmes in the oPt. WHO continues to work closely with the Palestinian Ministry of Health to strengthen health systems and service availability for people suffering from mental health conditions. It supports grassroots nongovernmental organizations such as MHFFS financially, but also through provision of technical training and advice. Next month, WHO will conduct resource mobilization and operational management training for Tagreed and her colleagues to assist them in continuing their valuable work. 
By Joseph Swan