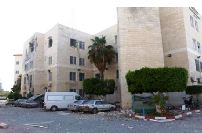 Al Asqa Hospital, Deir al Balah, damaged on 21 and 30 July.On 7 July 2014, a humanitarian emergency was declared in the Gaza Strip, following an escalation in hostilities involving intense Israeli aerial, tank and navy bombardment and Palestinian rocket firing into Israel.
The conflict has resulted in almost 1900 persons killed, including more than 400 children, and 10 000 injured, widespread destruction of buildings and essential infrastructure like the Gaza power plant, and the displacement of 300 000 persons from their homes and sheltering in UNRWA schools.
Three ambulance workers were killed evacuating patients in Rafah.