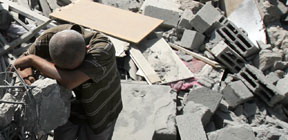 Eyad alBaba/WHO12 July 2014 - A centre for the developmentally disabled in Beit Lahiya in the northern Gaza Strip, al Mubarrat Filastin, was destroyed in a missile attack on 12 July that hit the middle of the building.
Two disabled women were killed, aged 30 and 41, and four persons were critically injured. 
Two disabled women, aged 20 and 31, a disabled man, aged 25, and their caretaker, a 53-year-old woman, were admitted to the burns unit in Shifa hospital. Two are in intensive care.
Related link
Urgent funds required to prevent the collapse of health services in occupied Palestinian territory