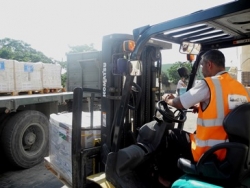 A WHO procurement of medicines and supplies with funds from Switzerland and Norway arrives in the Ministry of Health Central Drug Stores in Gaza. Photo credit: WHO.
7 August 2014 – Casualties now exceed the number of the previous two conflicts in Gaza combined, in 2008–2009 and in 2012. From initial assessments, 3000 structures have been completely destroyed and 30 000 damaged.
A ceasefire began 5 August following several days of intense violence in many areas in the Gaza Strip. The Ministry of Health (MoH) estimates that at least 100 people may have been buried under rubble of destroyed buildings but ambulances could not evacuate them during the continuous violence.
Three ambulance workers were killed evacuating patients in Rafah.