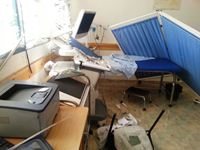 According to the Ministry of Health: As of 15 July, a total of 187 Palestinians have been killed in the Gaza Strip, including 39 children, 24 females (aged 18–60) and 11 people over the age of 60. A total of 1390 Palestinians have been injured, including 393 children, 252 females and 49 people over the age of 60 years.
Among health care workers affected a pharmacist was killed in his home. Two medical staff, 3 paramedics and 15 emergency medical services staff and volunteers were injured in attacks.
As of 14 July, Gaza European Hospital (250 beds) and al Wafa Medical Rehabilitation Hospital have been damaged which caused temporary evacuation of some patients.
Read the situation report on the crisis in the Gaza Strip, 15 July 2014