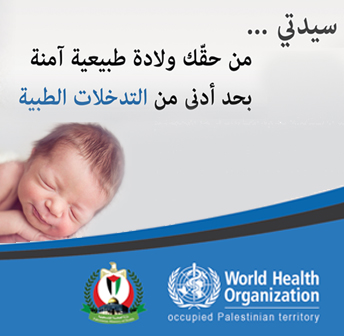 Gaza, May 2013 - WHO launched a campaign in 2013 in support of its Safe Childbirth project in the Gaza Strip to convey basic messages regarding women's right to reproductive health. How women are treated in hospital during childbirth depends both on women themselves being empowered and on health providers implementing safe delivery practices.
Since WHO's Safe Childbirth project began in 2010 it has targeted midwives and physicians in maternity and neonatal units in four Ministry of Health (MoH) hospitals (Al-Shifa and Al-Harazeen in Gaza city, Nasser in Khan Younis, and Al-Emairati in Rafah) to improve  childbirth practices by encouraging trained midwives to manage low risk deliveries. The result is that childbirth changes from a passive experience directed by physicians back into a healthier natural process for mother and baby.
WHO's Right to Health Advocacy project developed a community-based approach to promote women's right to available, accessible, acceptable, and quality reproductive health care and safe delivery. The messages were directed toward women of reproductive age, especially pregnant women, and health workers in hospitals and PHCs through 159 awareness sessions reaching 5000 women, but to the larger community through TV interviews, radio programs and 10 billboards placed in prominent places in the Strip promoting women's right to access sufficient information and to safe natural childbirth with minimum use of medicalization.
Change in knowledge and behavior comes through the community level and through the health system, including professionals, practitioners, administrators, managers and ministers. Five RTH workshops targeted 144 MoH doctors, midwives, nurses and administrators working in maternal hospitals. One health worker participant recommendation was that: "every decision maker in the health sector should attend these Right to Health workshops."  
In order to empower patients, information should be adequately displayed and disseminated. Communication skills are also important; health workers should treat patients professionally and devote sufficient time for each case to understand patient concerns and provide necessary information. This is not always possible when health professionals are dealing with very large numbers of patients, which raises the need for policies and protocols based on a right to health approach in order to regulate health services.
Feedback from the health workers and women in the community highlighted the need to start community advocacy at the beginning of projects which aim to improve quality of care, and not only in the last phase, to ensure sustainability and visibility.